This post may contain affiliate links. Please see my advertiser disclosure for more details.
After we had rested from our hike, we were trying to figure out what to do for the afternoon. There were more a few more trails, but it was just so hot (90+ degrees in October), and we were still whooped. We considered going to see a movie, but decided against it since it was already about 4:00 in the afternoon. So, we just decided to take a drive into the local town of Montross. I thought maybe there would be some local shops to check out.
Ken walked to the restrooms, and I told him that I would meet him there with the car since I was gathering some sticks for the evening campfire. When I went to start the car, it was dead! The car was making a strange noise, and I wasn't happy! My 1999 Ford Explorer had just had nearly $200 in repairs two months earlier. Ken must have realized I was taking too long, so he started to walk back to our campsite. I was fairly certain it was the battery, but Ken wasn't sure. I thought it was the battery because we had been keeping the car doors open so much (and hence the lights on in the car), and charging our cell phones while the ignition was off.
I called the main number for Westmoreland State Park from my cell. I explained the situation, gave our campsite information, and the lady told me that a Park Ranger would come and give me a jump. The Park Ranger arrived within 10 minutes. He had a portable battery jump pack, and as soon as he hooked it up, I was able to start my car.
It had been about five years since I last had my car battery replaced, so I figured I was due for a new one anyway. I left my Explorer running, and Ken and I looked up some local car repair places on our phones, found one called Kenny's, and decided that sounded good to us! Luckily they would be open for another hour, and they would be able to replace the battery right away! Score!
But, on our drive into the town of Montross, we got stuck in some random local parade! What should have been a short ten minute drive, ended up taking us nearly 40 minutes! I was afraid we weren't going to make it to the car repair shop in time.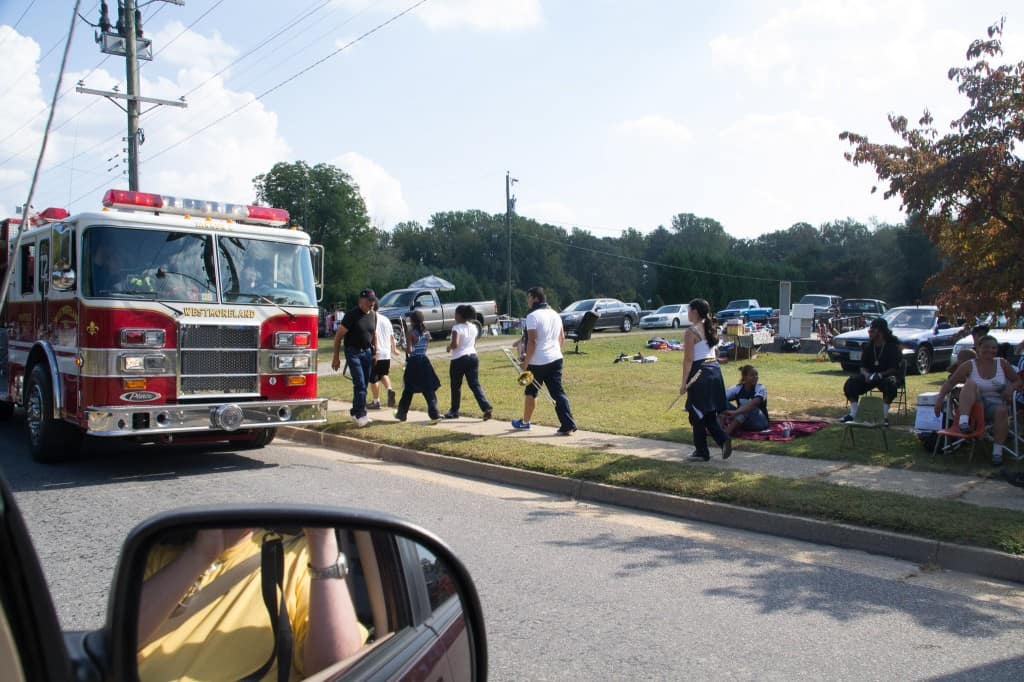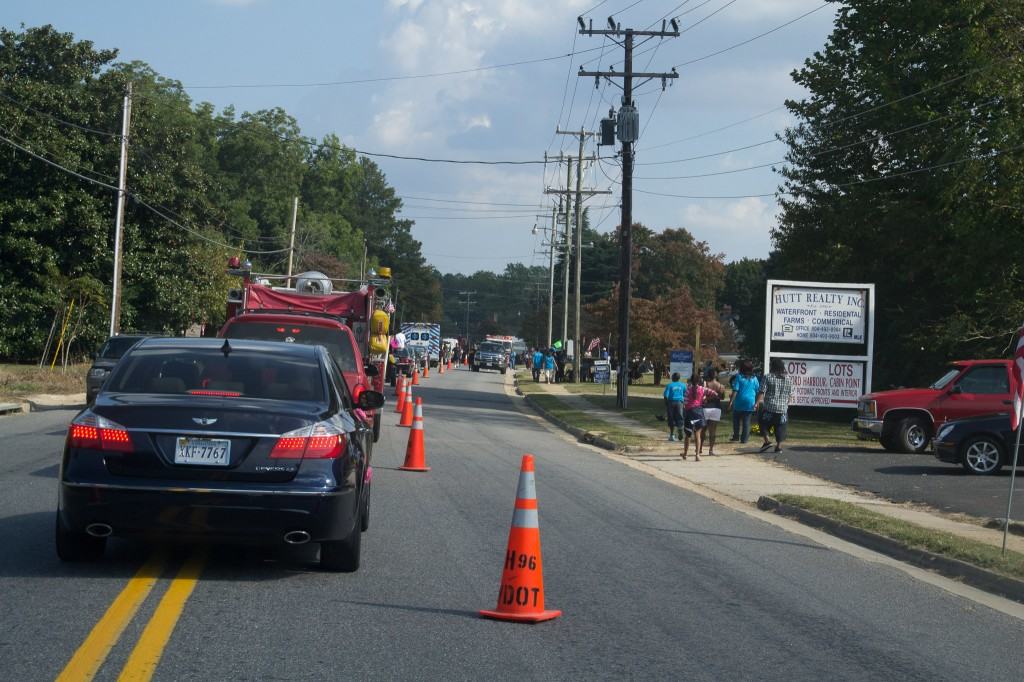 Then, of course, after we were finally done with parade traffic, our GPS wanted to take us 3 miles out of the way for some random U-turn. Luckily we decided to ignore the GPS directions and not drive 3 extra miles down the road. We found the car repair place without much difficulty, and he got started on my battery right away.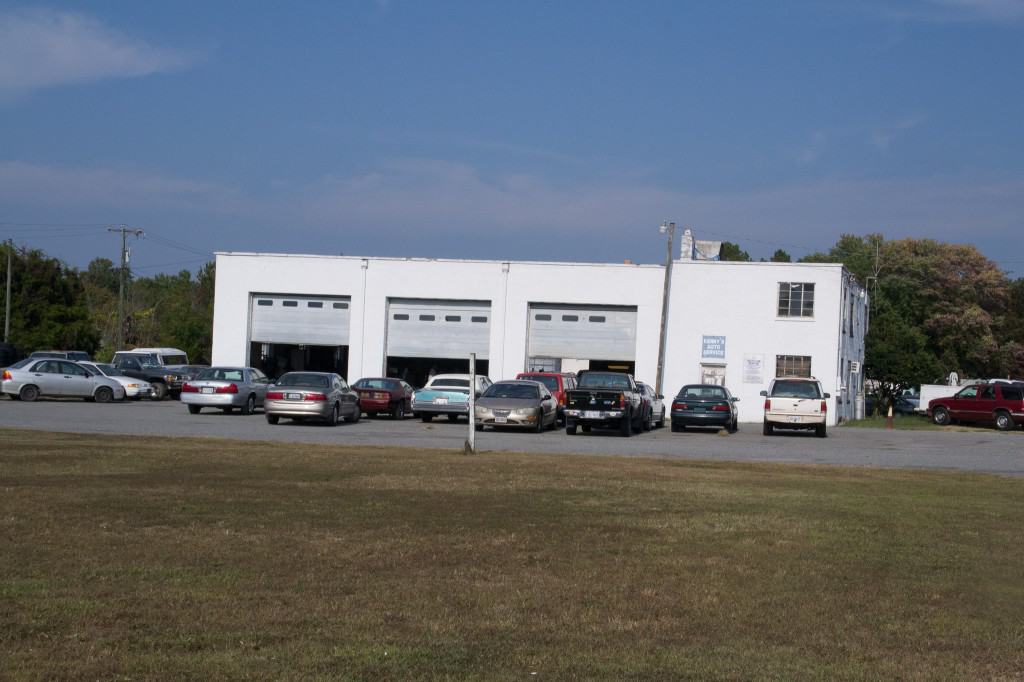 The garage was cluttered in the most beautiful way. It was one of those places that had an old, beautiful tool or trinket everywhere you looked. Ken used that time to check in with his Mom, and I took some pictures of the shop.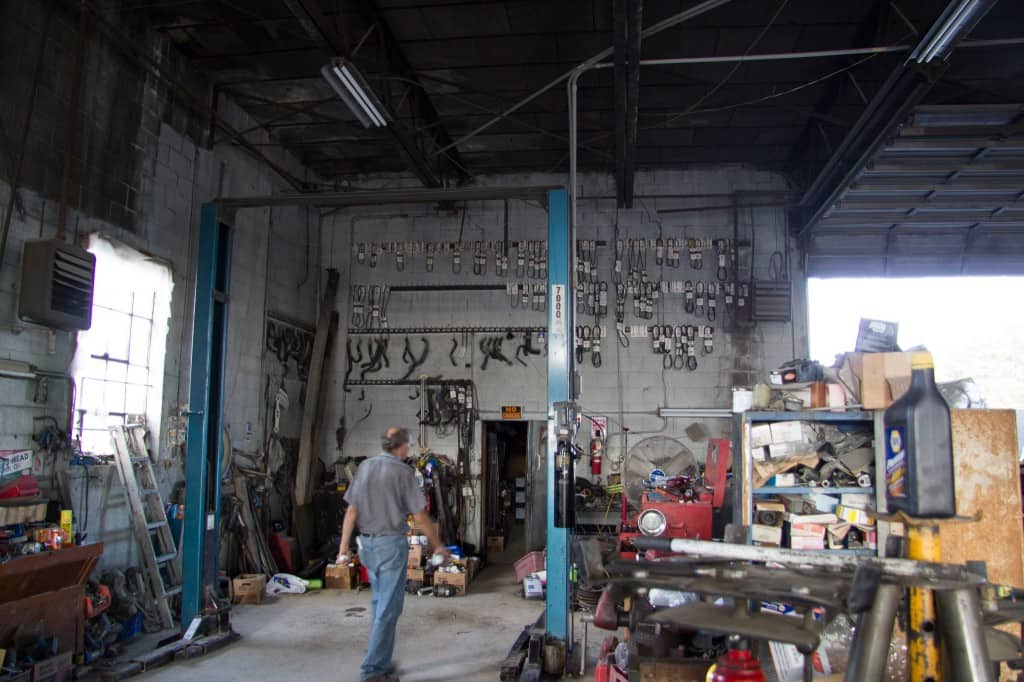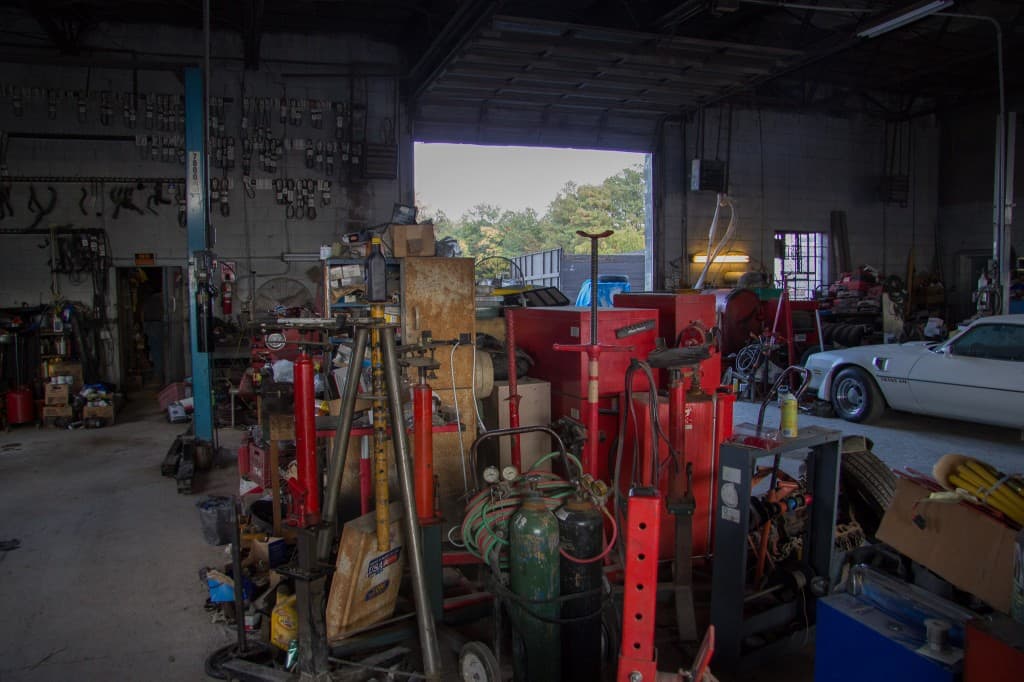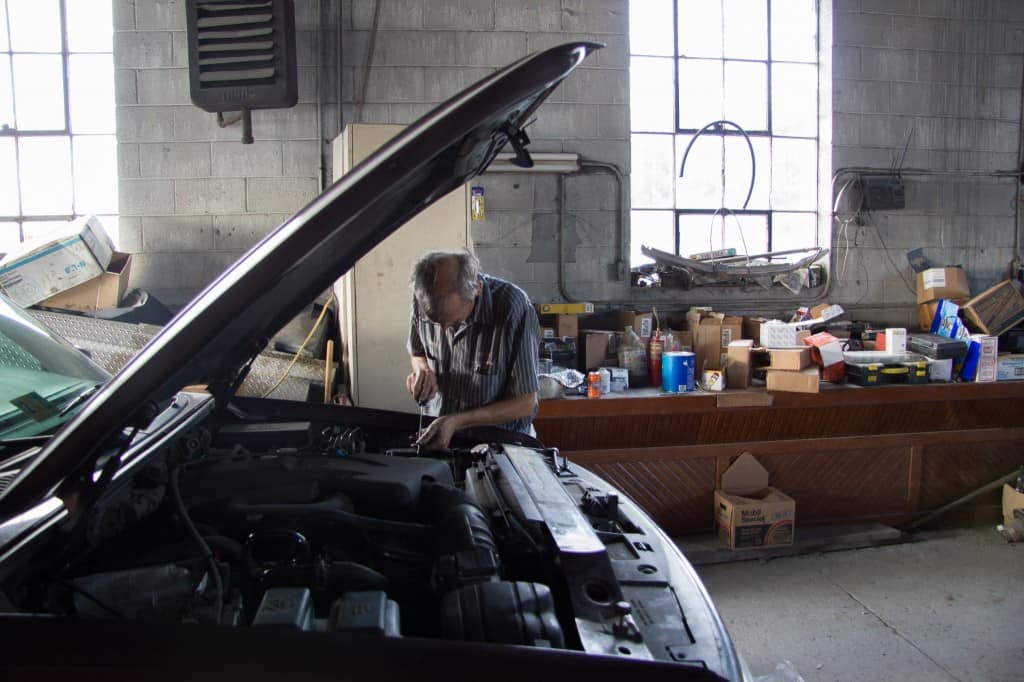 I asked the repair guy what the deal was with the parade. He said it was their annual fall festival. I also saw some signs for Homecoming, so I think that was related as well.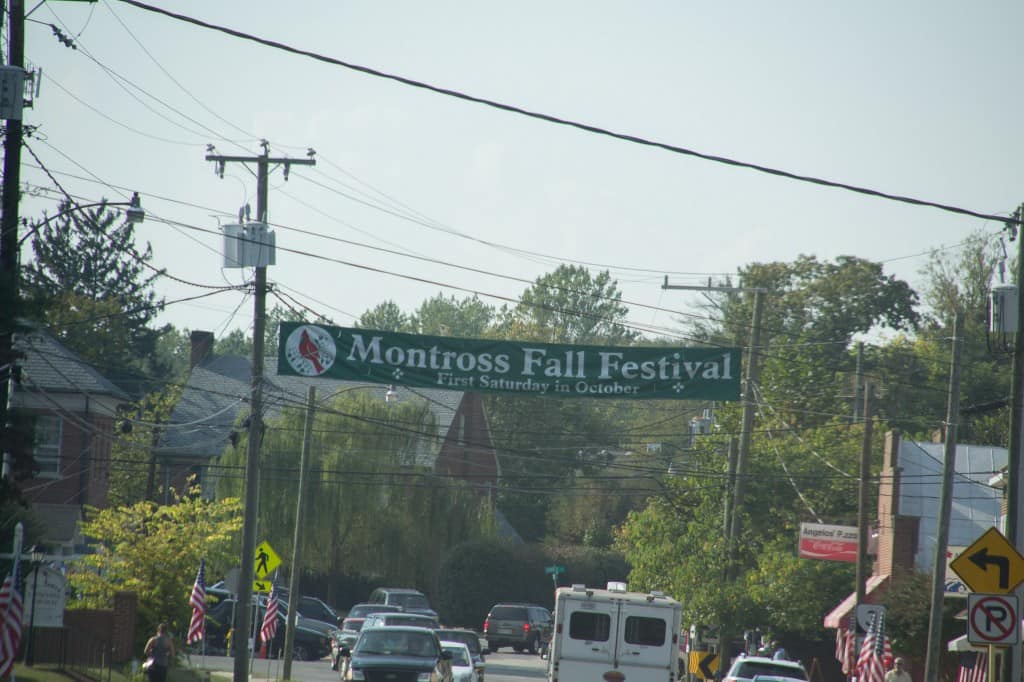 About 20 minutes, a new car battery, and $120 later, we were on our way back to the Campground. The parade route had cleared, and we made it back much more quickly! On our way,we stopped for gas and picked up some bottled sodas and beers at a convenience store. I hadn't packed any beer or other alcohol for camping. Forgive me if this is too much information, but for me, beer = many trips to the bathroom. Since I wasn't sure how far we'd be from a bathroom, I didn't pack any beer. But, now that we were set up at our campsite and we were a very short walk to the restrooms, I feared beer potty breaks no longer!
We got back to the campground while there was still daylight. We made a quick stop at the Visitor's Center, since we had not yet saw the inside. We also took some photos of the lovely view behind the Visitor's Center.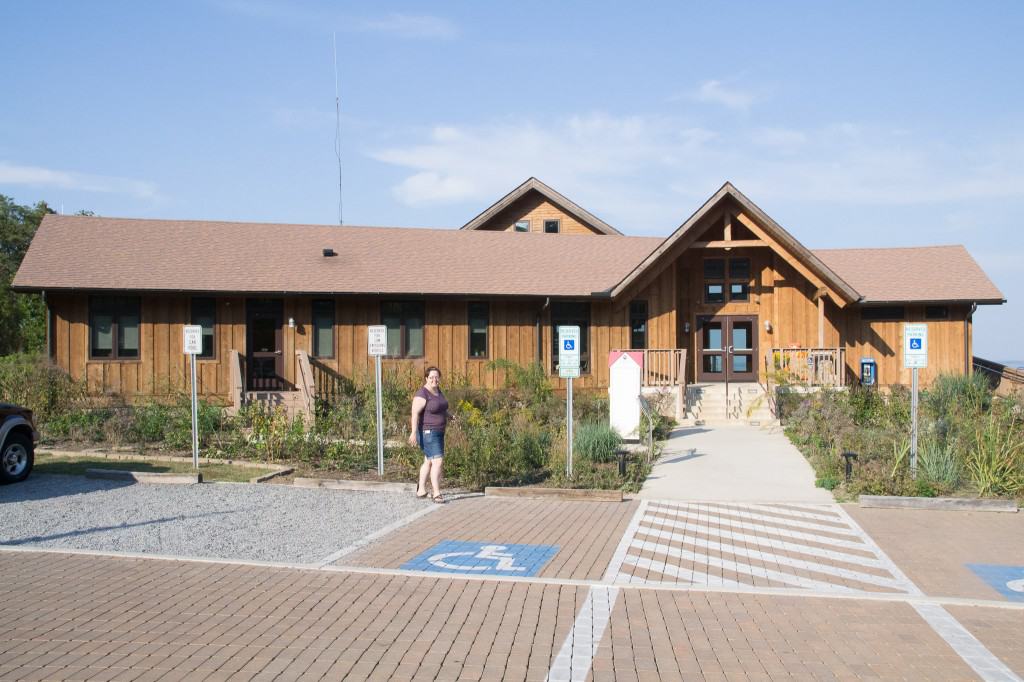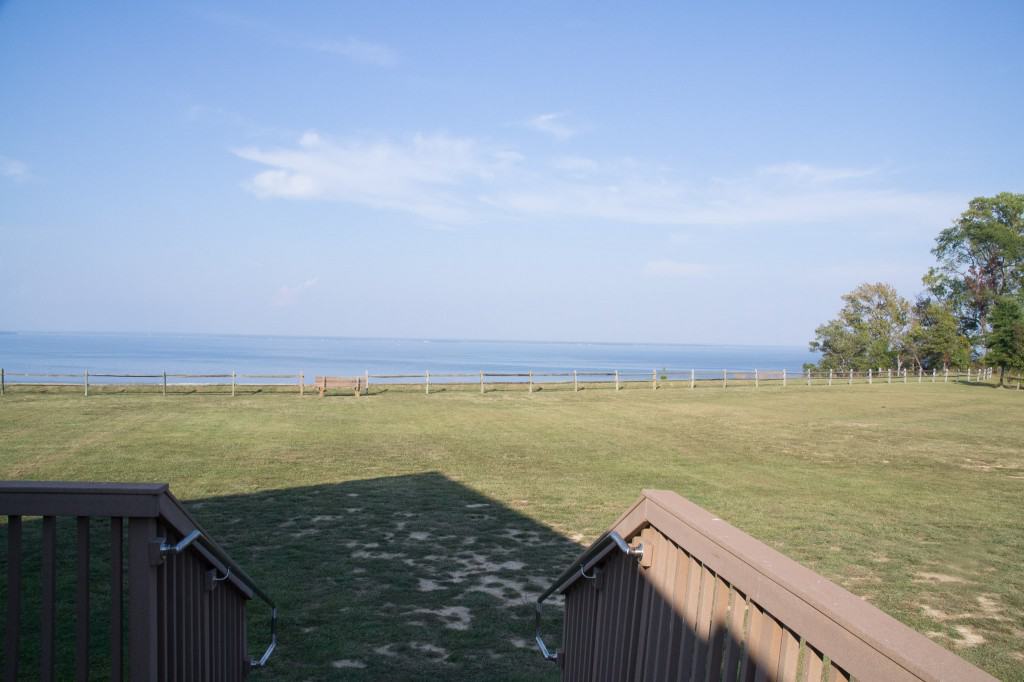 We picked up more firewood, and got another good fire going. I put some potatoes on the fire to make some loaded baked potatoes (with butter, sour cream, pre-cooked bacon, and ham). Since baked potatoes take so long to cook, we just sat around and enjoyed the campfire in the meantime. Once the potatoes had been cooking for 45 minutes or so, I started with other elements of the meal, including foil packets of cream cheese and salsa, as well as pie iron pizzas.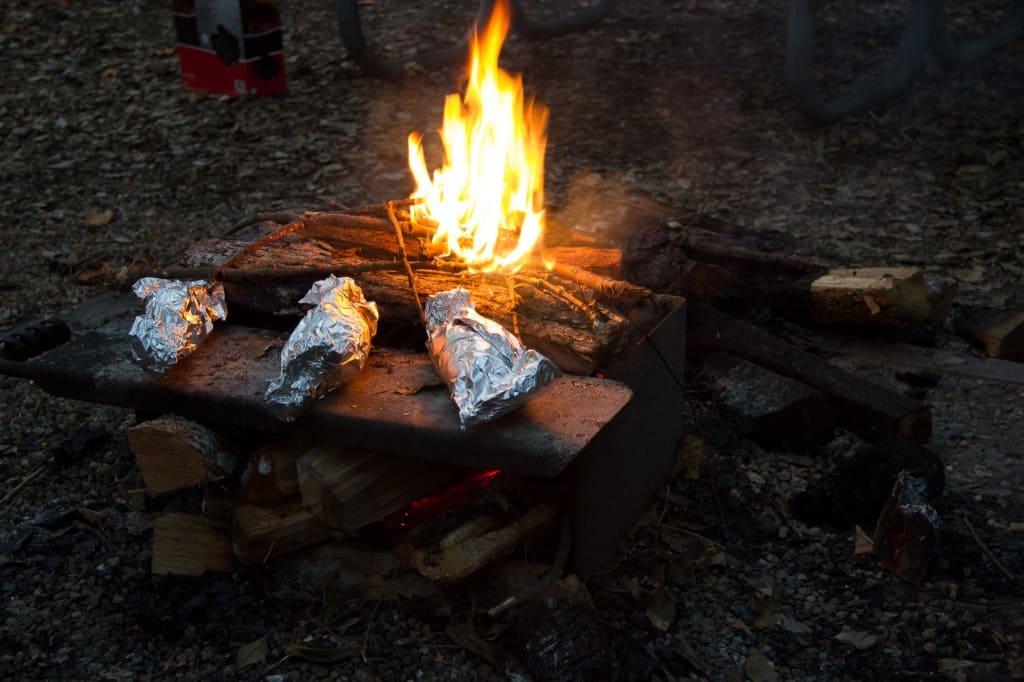 After we ate, we cleaned up and then we drove the car to a big open field near the Visitor's Center. We had packed our telescope and wanted to take advantage of the minimal light pollution and clear skies to do some stargazing.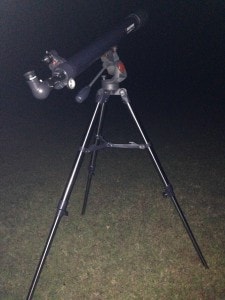 When we returned to our campsite, we started getting ready for bed! I was thoroughly exhausted and fell asleep quickly and slept hard.
Around 4AM, I was awakened by a neighboring camper. There was a family of four at that site, and I heard the dad yell, "RAAARRR! Get out of here! RAAAARRR!" My heart jumped into my throat. That's what you're supposed to do when bears are around, right? Make yourself sound scary and look larger? Of course, I had no way of knowing whether it was a bear, or what was going on, but it was enough to get my brain spinning. Ken had woken up too, but he was not freaked out. I just could not calm myself down, and I was debating whether to sleep in the car.
At some point, I finally fell back asleep, thank goodness.
The next morning, I asked the neighboring campers what happened. Apparently a raccoon had visited their campsite THREE TIMES in the middle of the night. The raccoons managed to open their cooler, and also started to drag away some dog food the campers kept in a plastic ice cream tub for their dog. They seemed like experienced campers, so I didn't chastise them for leaving their coolers out and not putting them in their car, but they did say that typically they have no trouble since the coolers are sealed. I wanted to call them idiots. But I didn't.
So, while I was freaked out by the middle-of-the-night "rarrring" experience, I figured I wouldn't let it ruin my desire for future camping trips. But I am glad that it happened on the second night instead of the first!
When we woke up, we ate bagels and cream cheese that we had packed. We wanted to head home early in the day, so we didn't want to set up for an elaborate breakfast. We packed everything back in the car, and disassembled the tent. We both decided to skip the shower at the campground and just shower when we got back home instead.
Our drive was uneventful. We made some mental notes of what might make the next camping trip even easier (not arriving at the campground when starving, maybe taking off on a Friday or taking a half day to ensure we arrive for a long weekend camping trip with plenty of daylight left, etc.) But there wasn't much. It overall was a successful first time camping trip!
And we really liked Westmoreland State Park. And the friendly Park Rangers and help with car battery jump sealed the deal even more.