This post may contain affiliate links. Please see my advertiser disclosure for more details.
A few weeks ago, we talked about one of our most frequently used technology projects in our house, the video distribution system. We actively use that on a daily basis. However, we also have another fun DIY home technology project that runs in the background everyday, and that is our DIY home security system.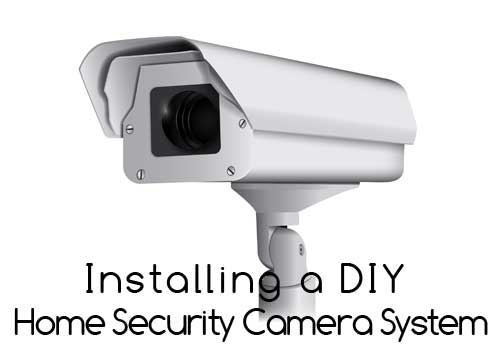 Our home security system is linked with our home automation system (more on that in a future post!), but anyone can set up their own DIY security system in their house. Now, of course, there are some downsides. 1) A DIY home security system won't be linked to any company that will notify the police if your home security system is triggered. But, it is significantly less expensive, and, 2) based on the inputs from some folks who have security systems installed by large companies, we've never had any sort of false alarm.
I won't go into the details of all our security system elements for obvious reasons, but here are a few of my favorite parts:
1) We receive an e-mail any time any door or window in our house opens or closes.
2) We have video cameras installed throughout the house, which we can view at any time on a computer or on our iPhones. (we like TrendNet cameras and we use the LiveCams Pro iPhone app to remotely view our cameras
3) The ability to remotely control our home door locks and lighting (this is more on the home automation side though).
This can be an easy project for beginners, but can also be uber customized for technologically-advanced folks (like my husband).
Here are some of the basics:
You can choose a fixed camera, which means that you can only view it from one angle, or a pan-tilt camera, which means that you can remotely move the camera up and down and left to right to get different perspectives in the room. This is great for large rooms where you only want one camera. Pan-tilt cameras are slightly more expensive than fixed, so you should weigh the costs and benefits of what you want. Plus, if you install a pan-tilt camera in a room that you can't see with just one camera, then you'll always have some area that is not covered by the camera. And since you can buy two fixed cameras When you install your cameras, you may want to consider hiding the wires in the wall, so you don't have an ugly power cord strung in the corner of your room with the camera. But that is entirely optional. We'll explain how to do that in a future post too.
E-mail notifications when something occurs in your home. This can anything from doors and windows opening, motion sensing (which may not be all that useful if, for instance, you have pets), or a light gets turned on. This is pretty basic and requires things like door sensors and a controller. We'll talk more about this in posts about our home automation system.
As we talk more about installing your own home DIY security cameras, we'll also talk about an even simpler option that we used to use when we lived in an apartment and just wanted to keep an eye on things when we were away on vacation. For that one, all you need is a computer (that you're willing to leave turned on the entire time you're away) and just a simple webcam.
Have you worked on any DIY home security system projects? What equipment did you use?