This post may contain affiliate links. Please see my advertiser disclosure for more details.
In August 2012, Ken and I took a quick weekend trip to Philadelphia. Ken had left his job he had been at for four years, and was taking off two weeks before starting his new job. (Funny enough, he just left that job a few weeks ago and started a new one!) We drove to Philadelphia on Friday evening, and spent all day Saturday and Sunday there, leaving Sunday evening.
Like Gettysburg, which I mentioned in a previous Blast from the Past post that I didn't visit until I was 32, I was a little embarrassed that, despite being a born-and-raised Pennsylvanian, I had never visited Philadelphia.
We stayed at the Westin Philadelphia. I scored a great rate, and it was a good location, about a 20 minute walk to the Independence Hall sites.
Our walk from the Westin to Independence Hall took us past the old Philadelphia City Hall.
Independence Hall
We had paid a nominal reservation fee ($3) I think, to reserve a time for a tour of Independence Hall. Otherwise you have to pick up same-day tickets and it's no guarantee that you'll be able to get the time you want (or even whether you can get tickets). We had a 10AM reservation time and we arrived at the Independence "Mall" around 9:30AM.
Since we had some time to kill, we sat down on a bench and Ken had a snack (A Hostess cupcake and a Dr Pepper. His usual breakfast).
We headed across the street to Independence Hall for our 10AM tour, only to realize I had messed up. Apparently the e-mail confirmation was not actually our "tickets." Even though I had pre-arranged for a 10AM time slot, we still had to go to the Visitor's Center to pick up our actual 10AM tickets. Unfortunately, it was like 9:56, and the Visitor's Center was about a five minute walk away. We rushed over to the Visitor's Center, picked up our 10AM tickets, and rushed back to Independence Hall. We missed the 10AM time slot, but luckily the 10:15 tour wasn't full, so the park rangers allowed us to go on the 10:15 tour, even though we had tickets for 10AM.
Our tour kind of got started on the wrong foot. In the first part of the tour, you sit down in a room as a Park Ranger gives you an overview of Independence Hall. Although photography and videography were permitted, the Park Ranger asked us to stop videoing because she was "having a bad hair day." We asked her if she was serious. She said, Oh, I'm being "funny serious" and then asked us to stop videotaping again. We were really confused. Ken and I have been to plenty of places that specifically say, "No Photography" or "No Video" and that's fine. We don't take pictures and we don't video. But tour group members were explicitly told while waiting in line for the tour to start that photography and video WERE permitted. So, to be told to stop, we were really irritated, especially because photography and video are some of our favorite hobbies. So, we stopped videoing because the Park Ranger told us to.
After that little "room" where we were given an overview, we entered an old courthouse in Independence Hall, famous because it allowed outside visitors to witness the trial. According to the Ranger, this was an important first step for fair trials, because anyone could say, "wait, that witness was in the pub the night of this crime and couldn't possibly know anything about the crime," and stuff like that. The short cage-like structure is where the defendant would stand during the trial. It's where we get the term "stand trial" from.
Across from the courthouse room, we entered the room were the U.S. Constitution was written! I got the chills knowing that I was standing in the same place as the men who laid the groundwork for our country!
After the tour of Independence Hall, we entered a different building, housing a small exhibit of important historical artifacts. Although I think I remember them saying that this is not one of the original copies of the Declaration of Independence.
After viewing that exhibit, we waited in a short line for another park ranger-led tour of a different building, which housed the original Senate and House of Representatives.
The original U.S. House of Representatives Chamber
Original Committee Rooms
Original U.S. Senate Chamber
After we spent some additional time walking around the Independence Hall area, we took some more pictures, and decided we'd wait to go to the Liberty Bell the next day. The line had gotten exceptionally long for it, and we were getting pretty hungry!
Our lunch destination was a few block walk from Independence Hall, and was called Reading Terminal Market. It housed many eateries and shops under one roof.
It was tough to decide where we should eat! It was right in the middle of lunch time, and it was also pretty crowded and tough to find a seat. But we finally found one and enjoyed our lunch!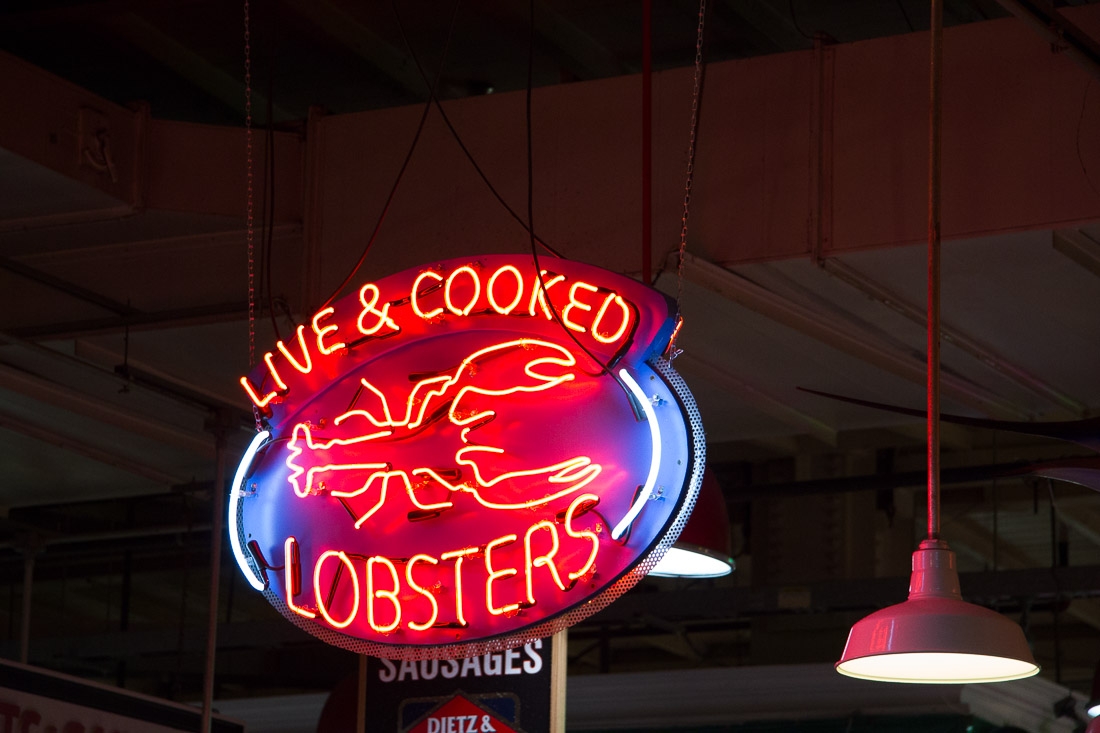 After lunch, we walked back to the hotel, because our next destination was only accessible by car. On our walk back, we saw this cool park with huge game pieces!
And we also saw the iconic "Love" sculpture.
We rested for a few minutes at the hotel, and then got our car out of hotel valet and drove to Eastern State Penitentiary
Eastern State Penitentiary
Eastern State Penitentiary is a former American prison that is now open for tours. You can read more about it on their website, but basically the design of Eastern State Penitentiary revolutionized prison design across the country. It closed in 1971.
We did the audio tour, which was really good.
I'll let the pictures do the talking here.
Here's a random trivia bit I learned from our tour: Did you know that the term penitentiary is actually related to the term penance? As in repenting for your sins? I didn't know that!
Longwood Gardens
After Eastern State Penitentiary we drove to Longwood Gardens. Longwood Gardens is a beautiful botanical garden site. At the time we were there, they were having an evening lighting exhibit by Bruce Munro. It was really stunning.
Unfortunately I didn't pack my tripod because I thought I wouldn't need it on this trip, so most of my photos of the lighting exhibit came out pretty blurry. But I still think you can get the idea for how unique it was.
At this exhibit, there were round sculptures made from water bottles and lit with LED lights! You could walk all throughout the area, close to the sculptures.
We didn't realize how huge Longwood Gardens is! We walked around there for the entire rest of the evening. When we left, we found a casual steakhouse on our way back to the hotel and ate some dinner. We were famished! We got back to the Westin late and we were exhausted after our long day of sightseeing! But we would do it all again the next day!