This post may contain affiliate links. Please see my advertiser disclosure for more details.
I tend to be pretty compulsive about making lists and I get a stupid amount of satisfaction from checking things off said lists!
I have an folder on my computer that is FILLED with travel-related lists. Packing lists for road trips. Packing lists for international trips. Packing lists for visiting family (when I just mooch off their shampoo). Pre-departure household checklists. Pre-departure countdown lists.
You get the idea.
So today, I'm sharing with you my pre-departure countdown checklist. I developed this list a few years ago when I started to hate that harried feeling I'd get when trying to prepare for a trip. For example, I'd go to pack my camera, but realize that most of my memory cards were full, so I'd have to take the time to upload all the pictures to my computer. Or want to make sure I have plenty of things to keep me occupied on a long plane ride, and I'd get distracted trying to find podcasts or magazines to download to my iPad, or books for my Kindle.
Oh, and let's not forget trying to clean up the house. Because who wants to come home to a messy house? Or was my mother the only one who seemed to pass that on to me?
This list was designed to be the solution! It spreads out the pre-departure tasks over several days so that nothing seems overwhelming. And let me tell you, it helps SO much when I follow this list. I followed it precisely for our Florida Keys trip back in November, but I only kinda followed it for our trip to Las Vegas in February (thanks to a family emergency the days before our trip), and it made a HUGE difference. I was much more relaxed when it was time to leave for our Keys trip compared to the Vegas trip!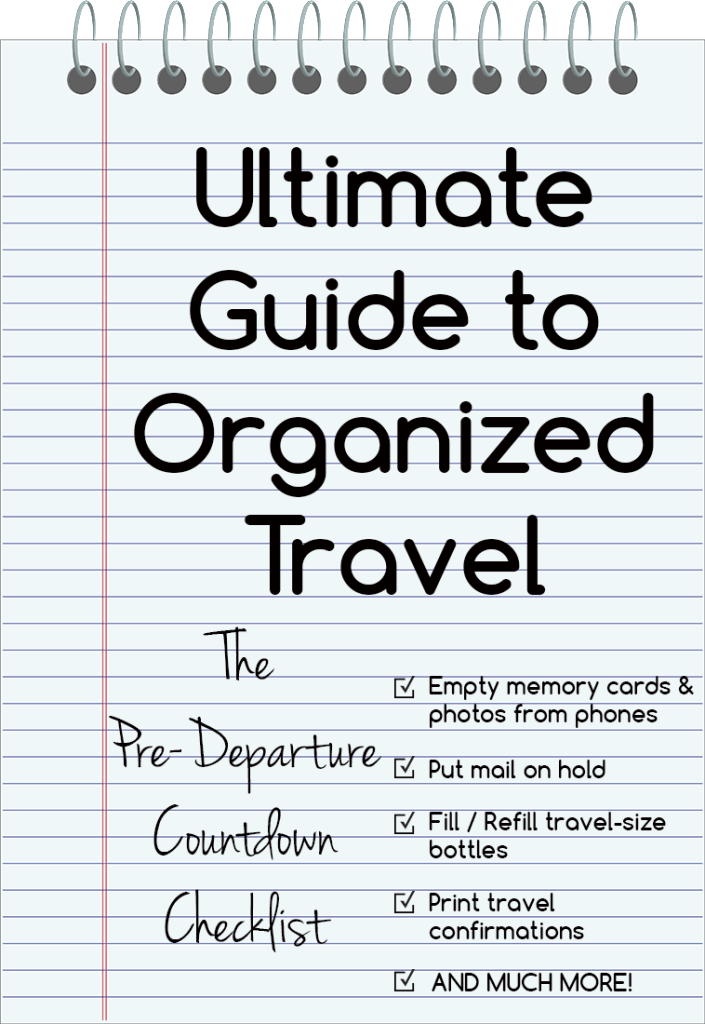 Keep in mind that this is different from my pre-departure household checklist, which includes things like taking out trash, double checking doors are locked, etc. I'll share that in a separate post!
Not every task is necessary for each trip. For instance, I don't put mail on hold if we're only gone for a long weekend. But I keep it on the list, and if it's not applicable, I just scratch it off!
Weekend Prior to Trip
Take backup hard drives to safe deposit box (in case of disaster at our home while on vacation, our most important data will be protected). You can read more about how we backup our data here.
Withdraw cash from bank if necessary
Make any necessary tweaks to home security system
T-5 Days
Download maps to handheld GPS if necessary (Ken carries a handheld GPS on a trip to geotag our photos. We download all the sites we plan to visit onto the handheld GPS!)
Schedule mail hold (only necessary for longer trips. It's easy to do this right on USPS.com)
Alert credit card companies about travel
Clear old photos from iPhone if necessary and backup to computer
Verify that at least one neighbor still has a key and ask them what days they can check on house
Put newspaper delivery on hold
T-4 Days
Refill all travel size bottles if necessary (shampoo, soap, makeup, etc)
Clear external hard drives taking on travel (we make many redundant backups of our photos when we travel. See more about that in this post!)
Download any desired books to Kindle
Purchase any desired movies for laptop or iPad
Clear all old video camera files and photo files from memory cards
Download audio books if desired
Download podcasts if desired
Download magazines for iPad if desired
T-3 Days
Print out all documentation for trip and put in folder (hotel reservations, car rental reservations, etc.)
Make sure all laundry is done for trip
Plug in all electronics (camera, Kindle, etc) for charging
Get a Manicure and Pedicure if desired
Clean out purse and coat pockets
T-2 Days
T-1 Day
Straighten up/light house cleaning
Relax!
Travel Day!
Finish packing things that you couldn't pack until day-of-travel (like makeup items that you don't have travel size versions for – eyeshadow, blush, etc., and laptop computer)
I've been using this list for a long time, and I've found that it's exhaustive for our purposes. Obviously each family is different, so think about some of the things that might apply to your family. Like do you have to drop off your dog at a pet hotel the day before you leave? Or maybe give the neighbor instructions for checking in on your house?
What tasks do you always find yourself having to do before leaving on a vacation? How do you keep things organized and streamlined?