This post may contain affiliate links. Please see my advertiser disclosure for more details.
Vdara Las Vegas (Hotel Review) – Deluxe Suite
---
The weekend after my birthday this year, Ken and I took a long weekend trip to Las Vegas. Las Vegas is definitely a love-it or hate-it destination. We are firmly in the love-it category. There's just so much to do, even if you don't like gambling or drinking.
We usually stay at a different hotel each time we go. That way we can explore different parts of the Strip on foot.
This time, we opted to stay at the Vdara. Rates at Vegas hotels for that weekend were actually kind of expensive. Probably because it was Valentine's Day weekend. But, now that many Vegas hotels have partnerships with either Hyatt or Starwood, it was easy to redeem points for our hotel stay.
The Vdara is part of Vegas' M Life Hotels, which partner with Hyatt. A Deluxe Suite at the Vdara was 20,000 Hyatt Gold Passport points per night. We were staying for three nights, I I transferred 60,000 Chase Ultimate Rewards points to my Hyatt account, and then booked the Vdara directly through Hyatt's website.
Our flight arrived around 11AM in Vegas, and I knew we probably wouldn't be able to check in until the allotted time at 4PM. So first, we went to a supermarket for some snacks and drinks for the hotel room. Nothing much, just some Slim Jims, Pringles, a bag of cookies, etc. Most importantly though we like to have bottles of water and some soda. Neither one of us are coffee drinkers. Our preferred breakfast beverage of choice is Dr Pepper!
Afterwards, we stopped by In-n-Out Burger. Always on my must-do list for any trip to the West Coast!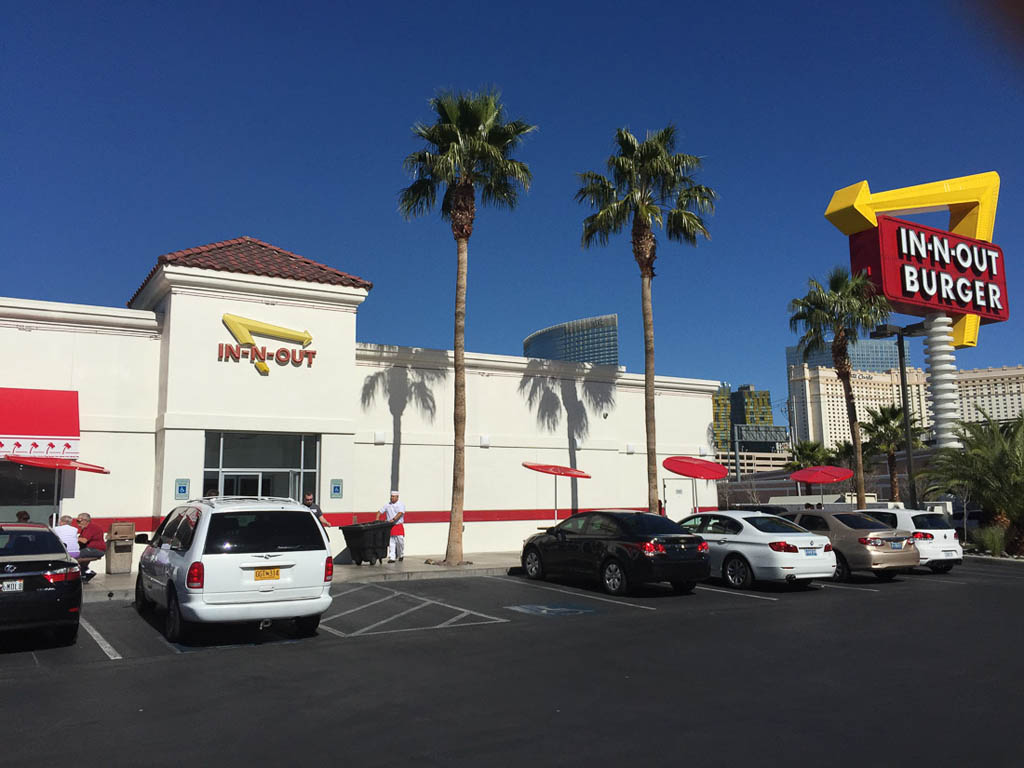 By the time we arrived at the Vdara, there still wasn't a room available. So, we put our bags in storage and headed out to the Strip and walked around some of the hotels and casinos for a bit.
Deluxe Suite at the Vdara (Review)
Once we finally got checked in, I snapped some pictures of our room!
When you first walk into the room, there is a small dining table on the left, and a kitchenette on the right. The bedroom / living area is just beyond that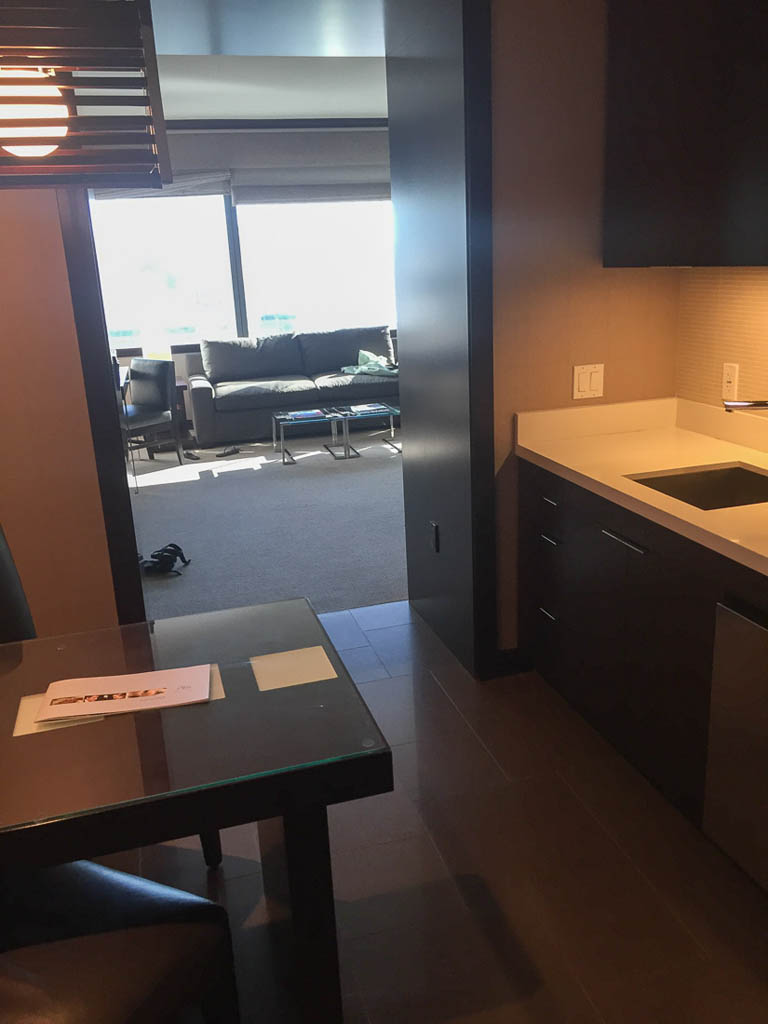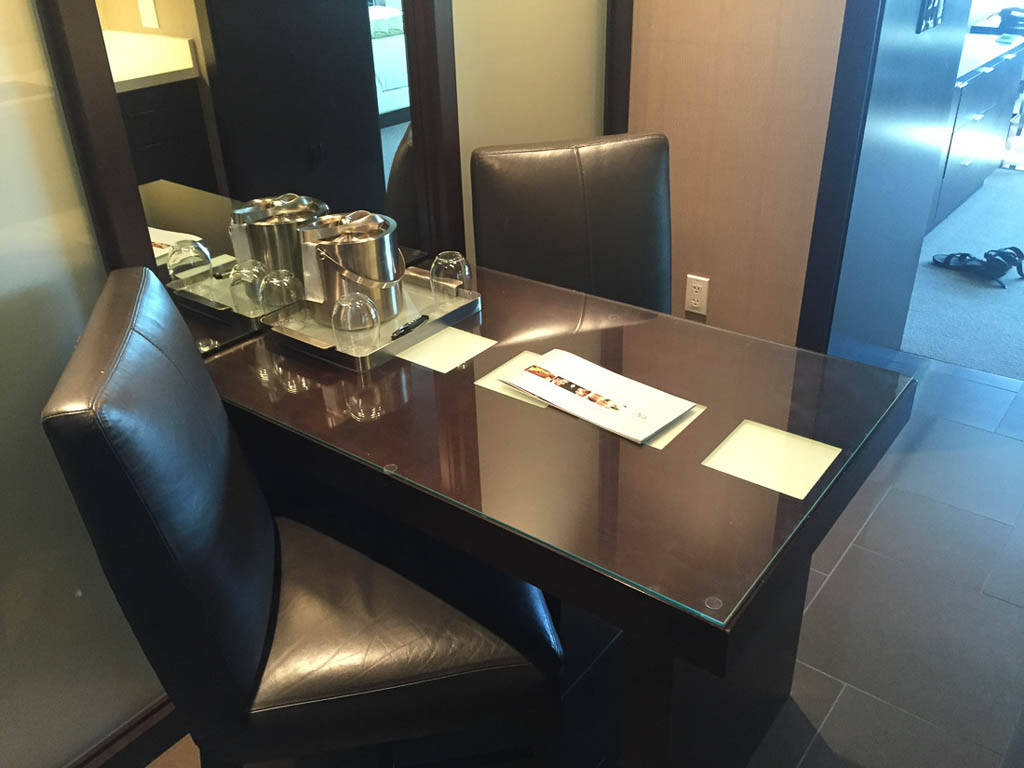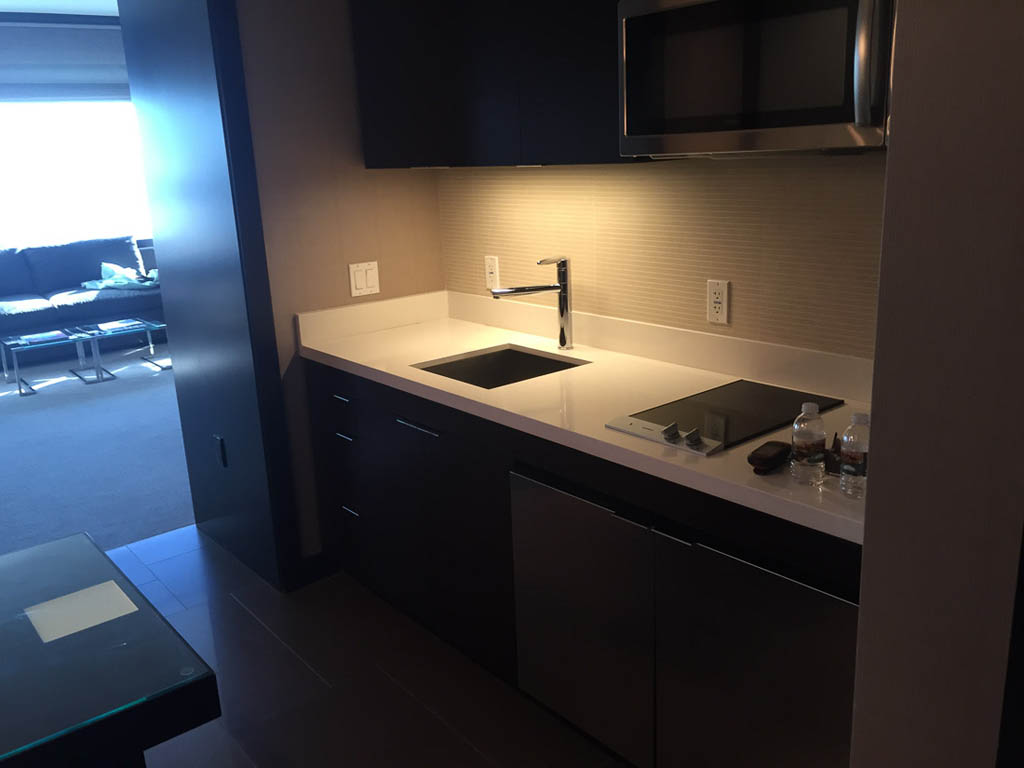 There was a side-by-side small fridge. One was packed already with mini-bar items for purchase, the other one had two complimentary bottles of water, but was primarily empty for guests' items.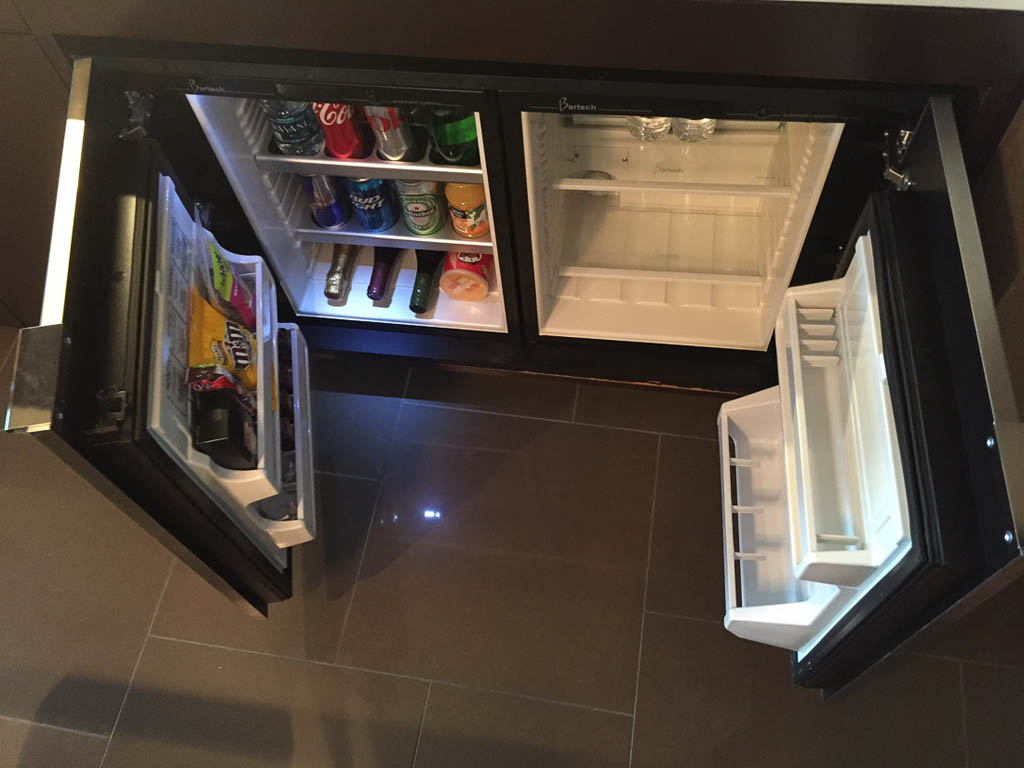 The living / bedroom area was relatively large, and we always appreciate having things like a sofa instead of just a bed to sit on.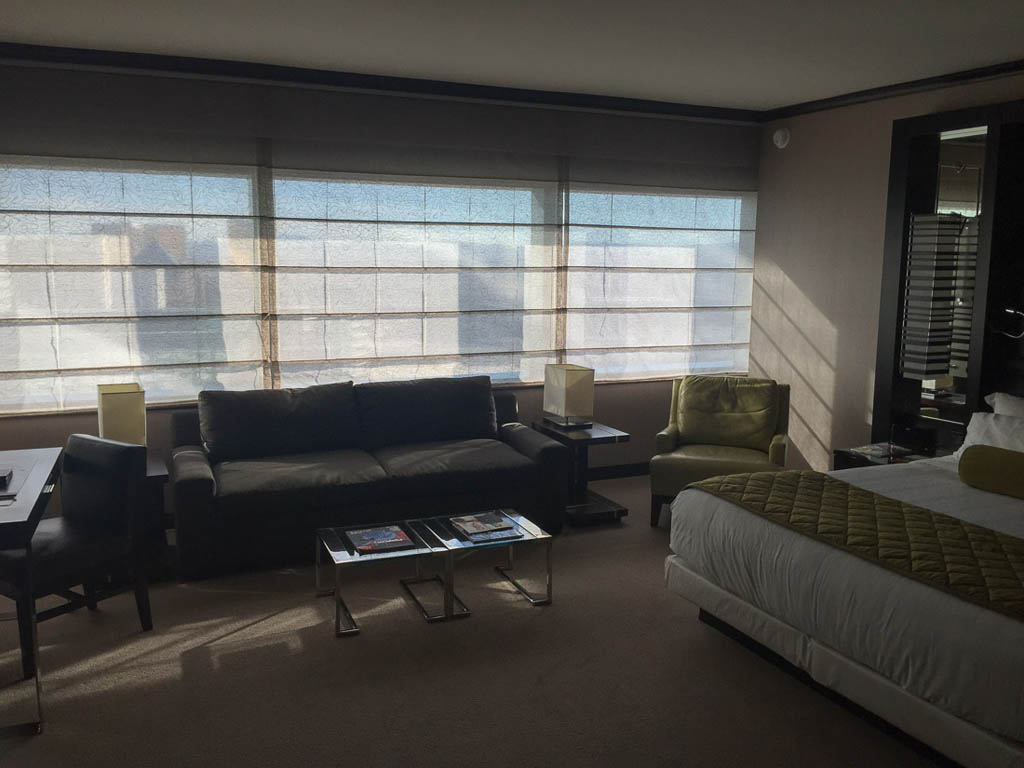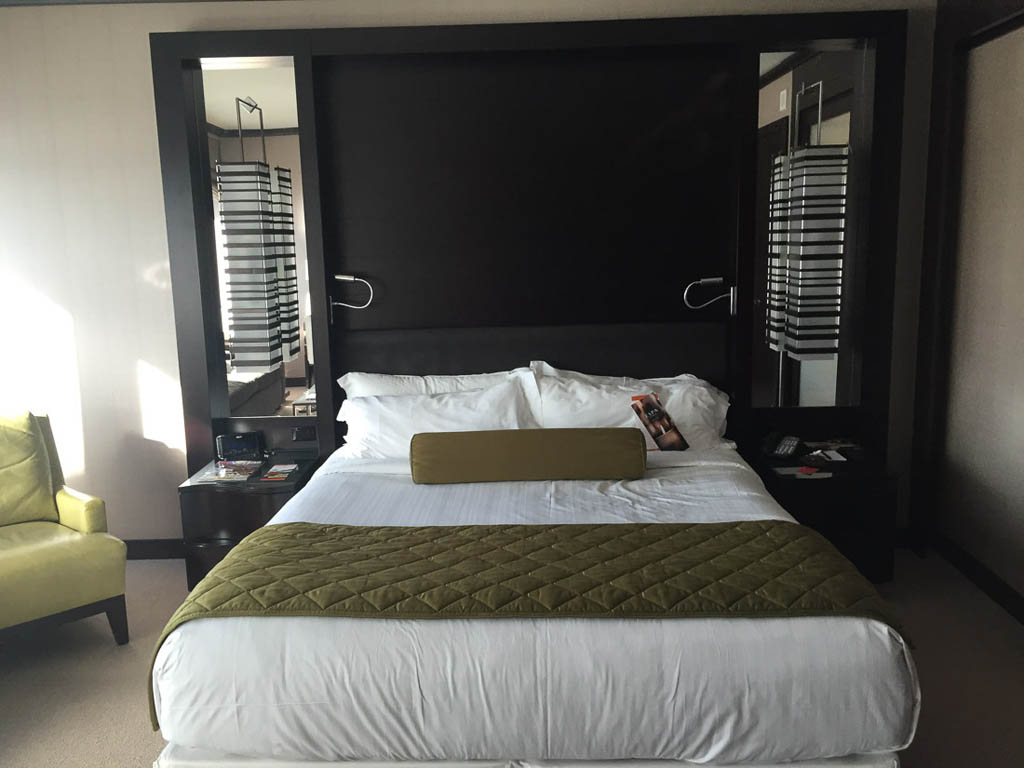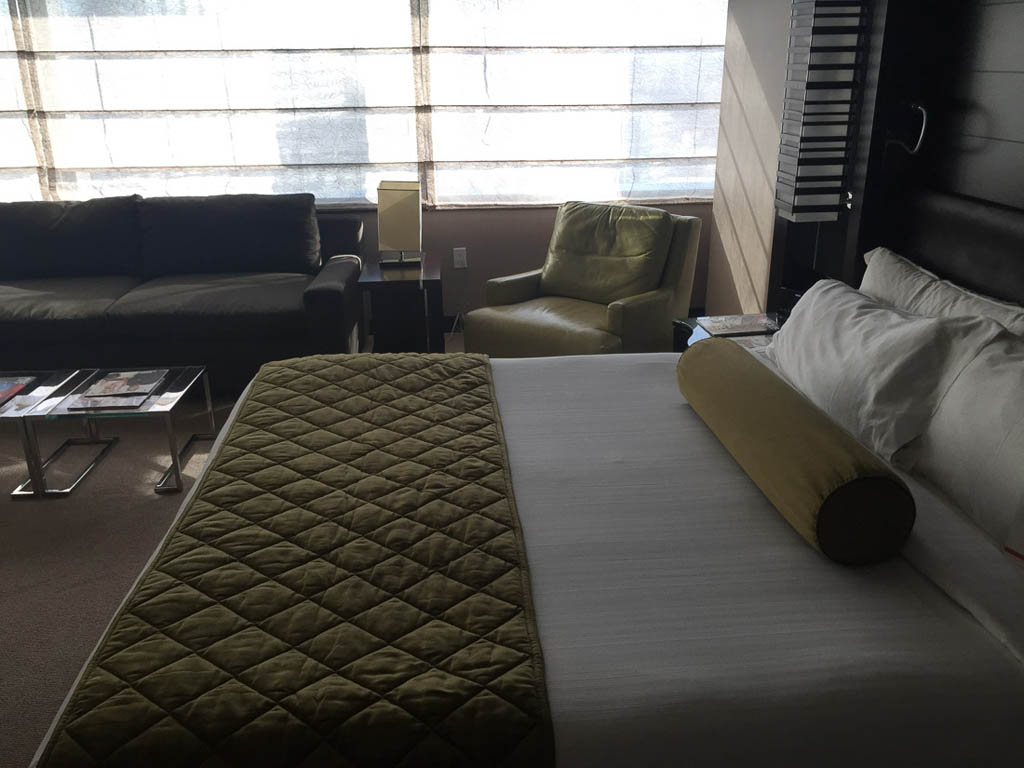 Across from the bed was a small desk, a flat screen TV, and a dresser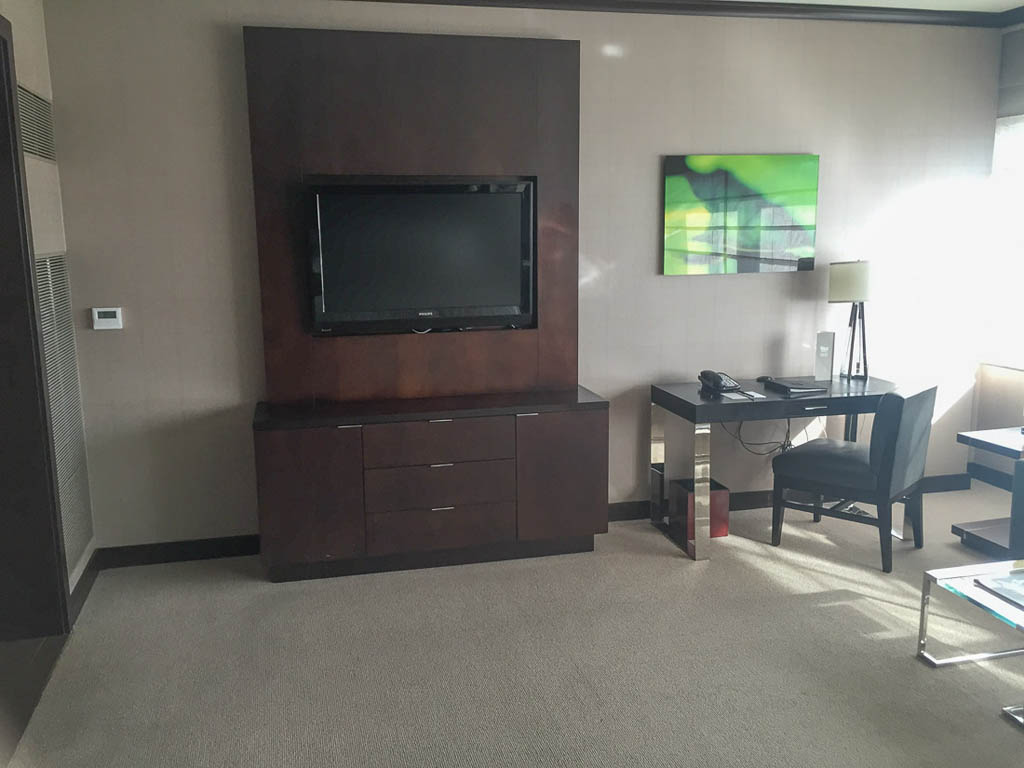 The bathroom was really fantastic. It was large, had a separate tub and shower, and plenty of countertop space!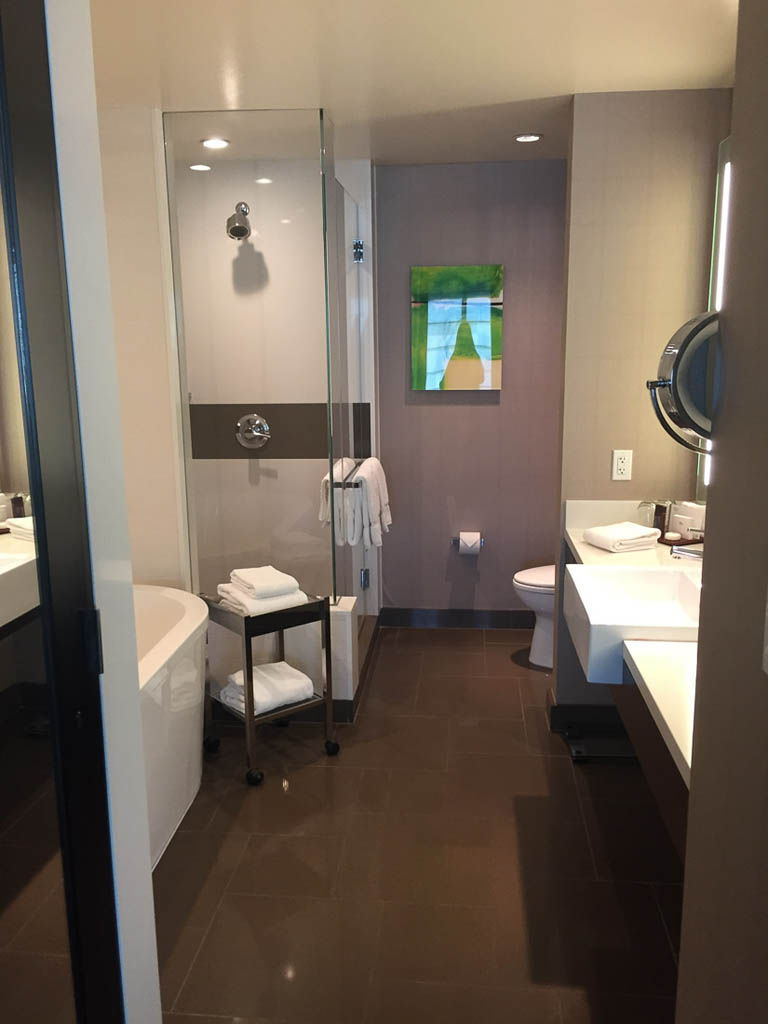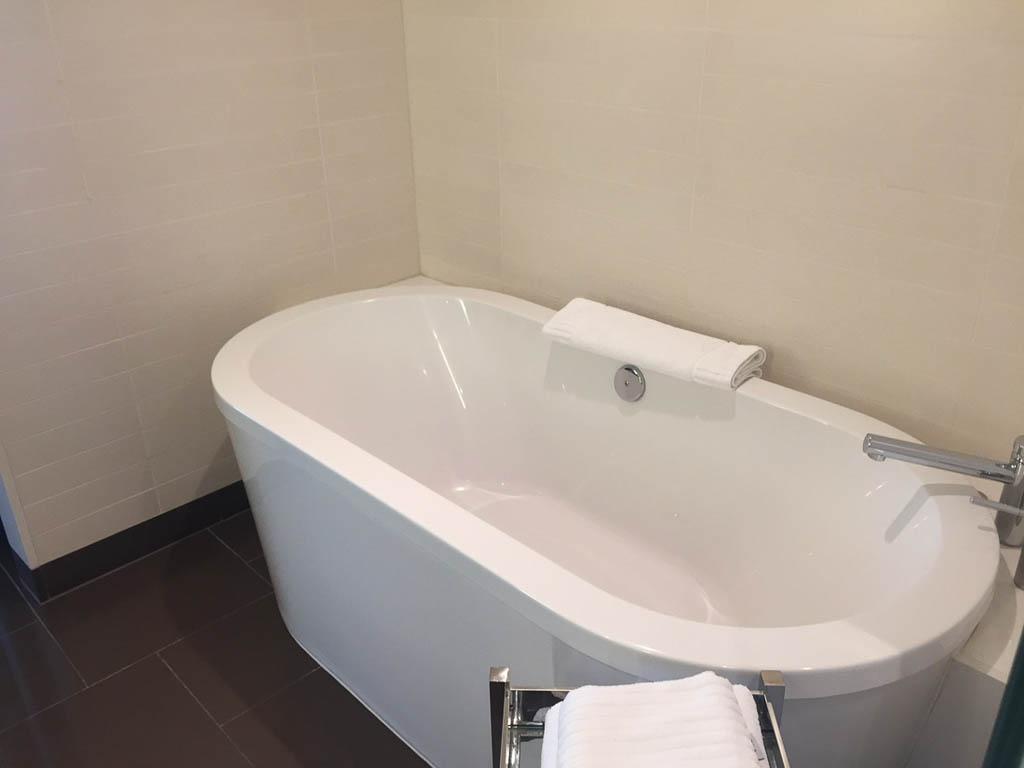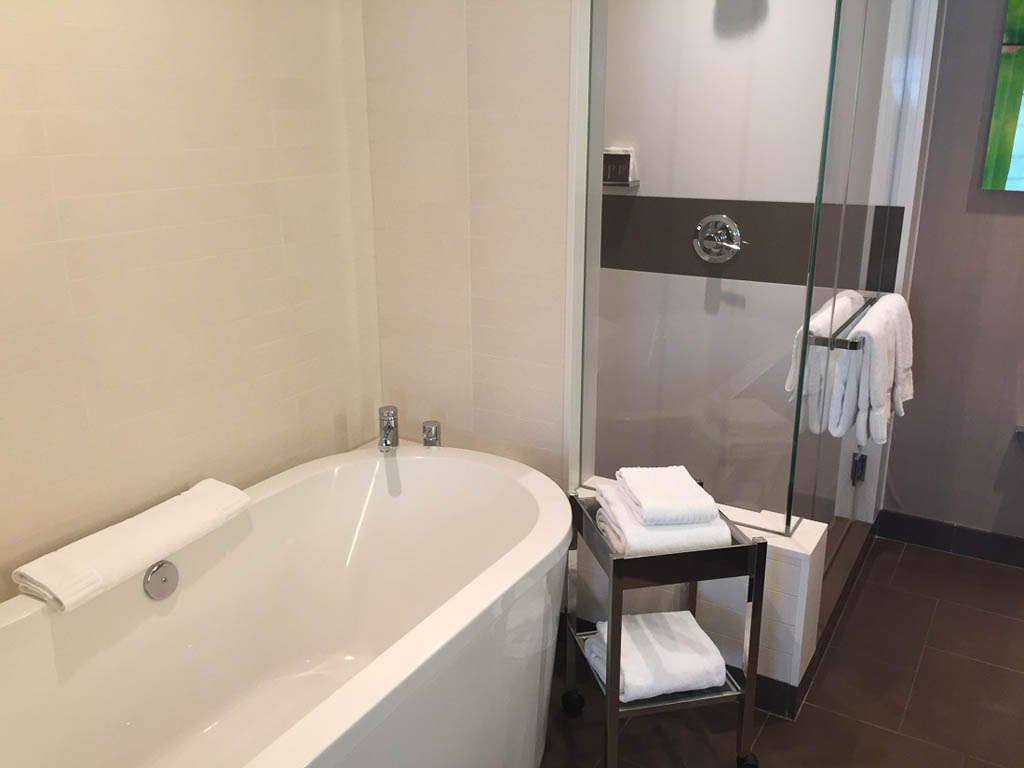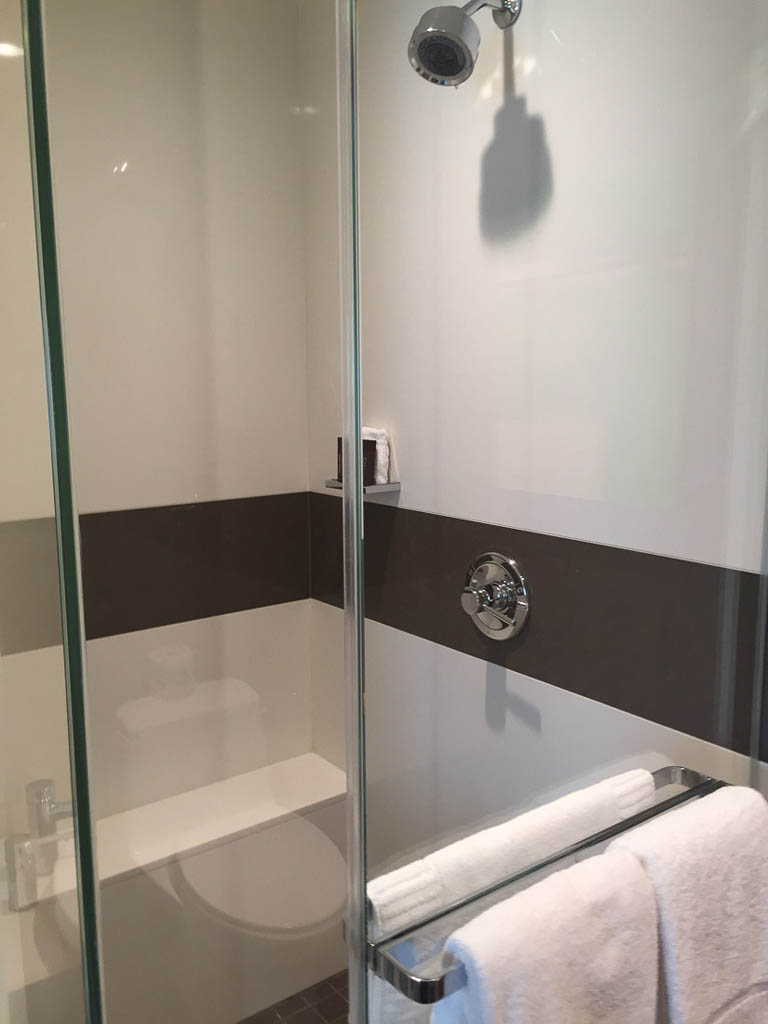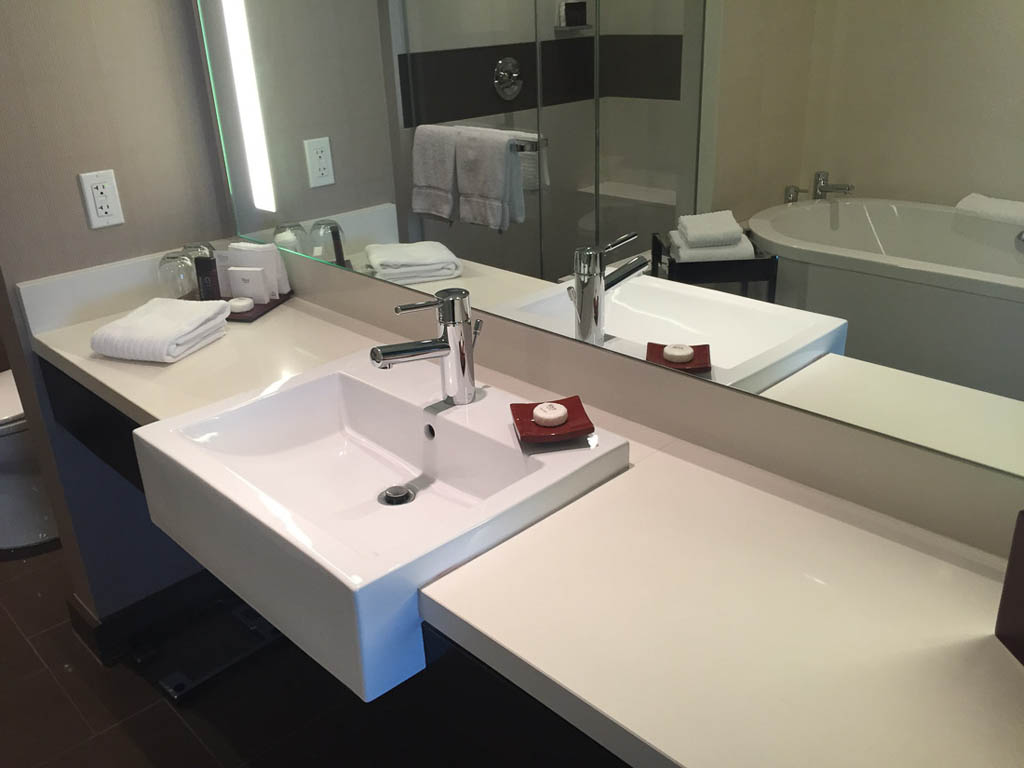 The view was decent, but not amazing. We actually tried the Twenty Dollar Trick to get a room with a better view, and in the weeks leading up to the trip, I was pretty confident it would work. Then, a few days before the trip, I happened to check for availability for better rooms. The hotel was COMPLETELY SOLD OUT. And sure enough, we tried the Twenty Dollar Trick, and the receptionist looked sympathetic and just said there was nothing she could do, that the hotel was sold out for Valentine's Day weekend.
Sadly, I didn't get a picture of the view at night, but here are some pictures during the day. It had a great view of the Luxor especially!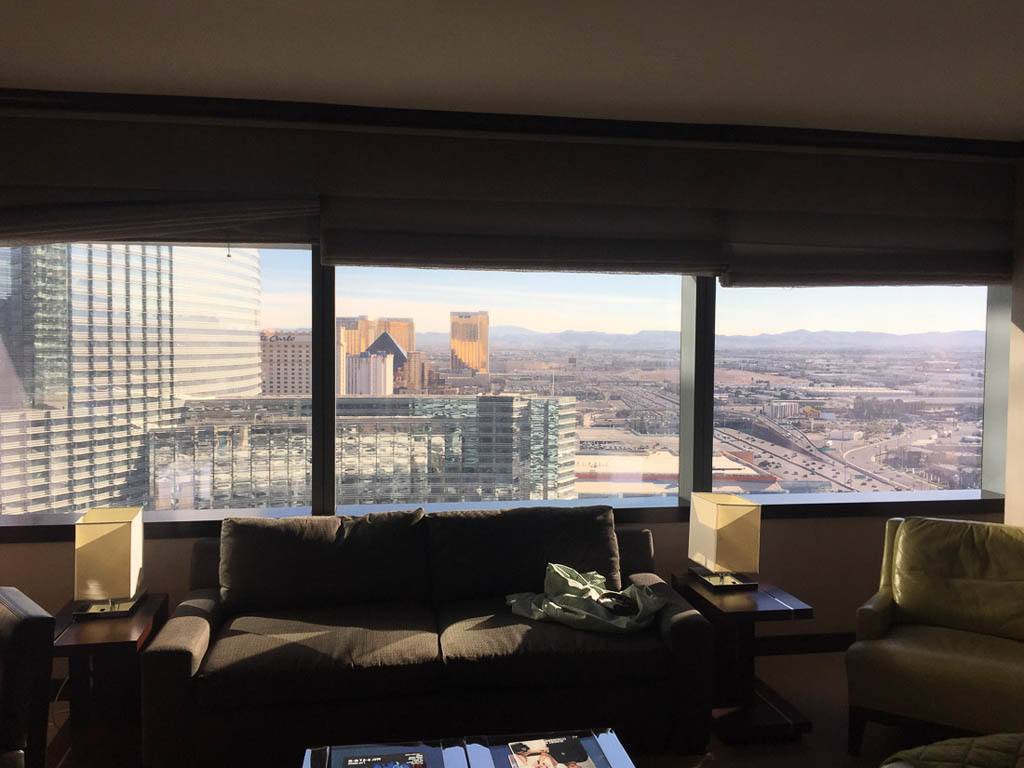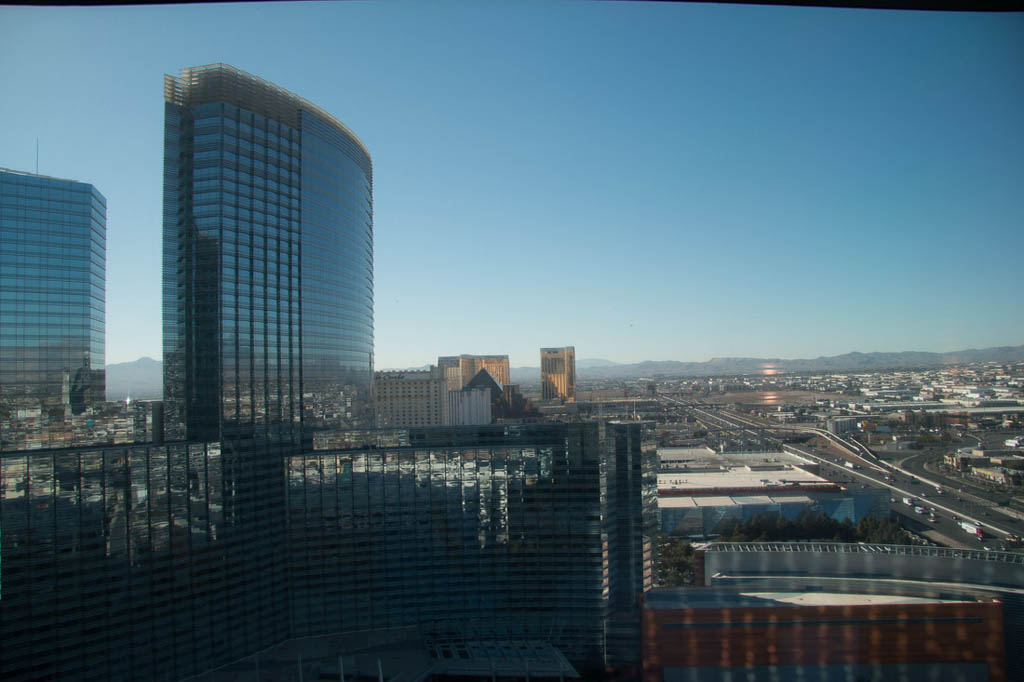 Vdara Lobby and Common Area
It's worth noting that the Vdara does not have a casino. I was worried that this might detract from the classic "Las Vegas Experience" of walking through a crowded casino and listening to the chimes of slot machines as you make your way to the hotel elevators to get to your room.
So, for that, I kind of wouldn't recommend Vdara to first-time visitors to Las Vegas. There's just something about that experience of walking through the Casino that is so classic. But, I will say, I LOVED being able to basically walk into the hotel and get right on the elevator. You didn't have to walk for ten minutes just to even get to the elevator for the guest rooms. And that was so nice after a long day on our feet! It would probably also be great for older folks or individuals with mobility issues.
When you walk in the main entrance, the reception / check-in desk is on the left, and there's a large seating/loung area on the right.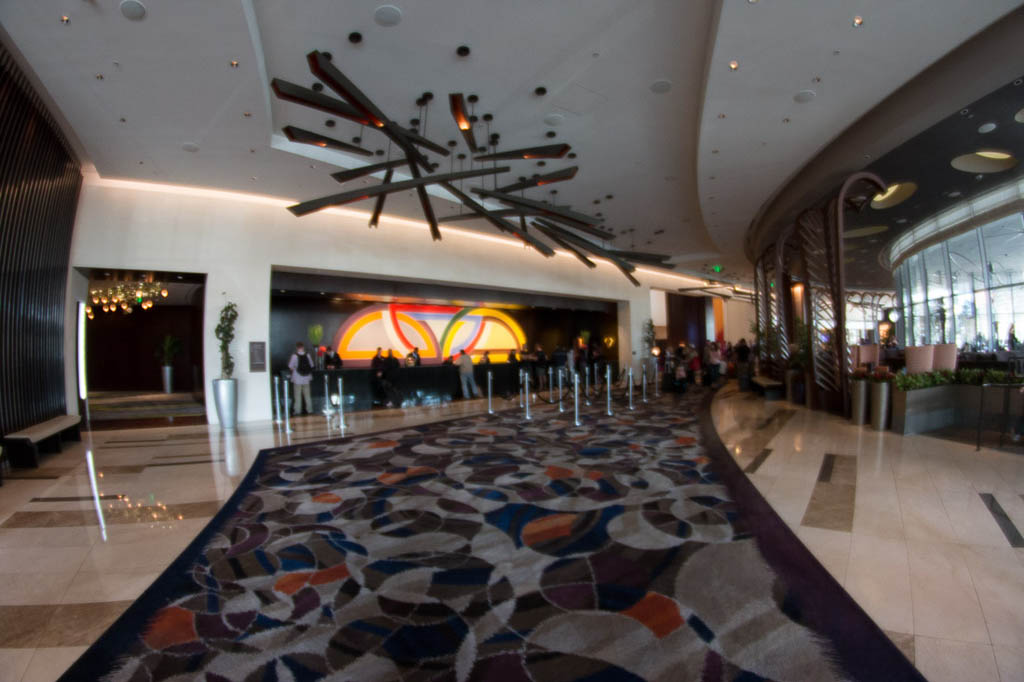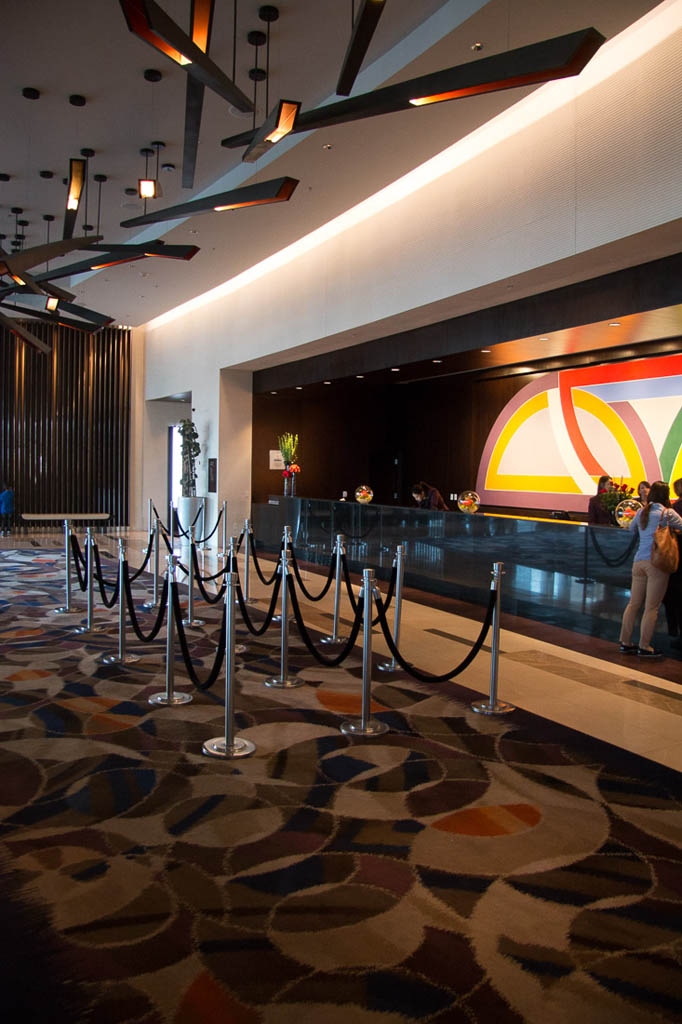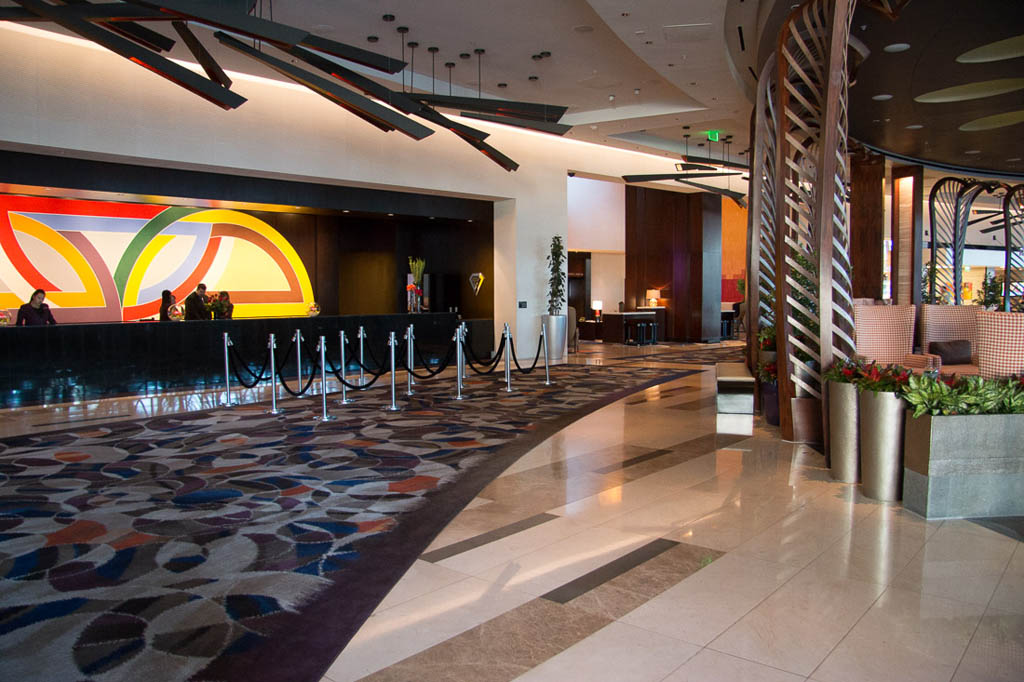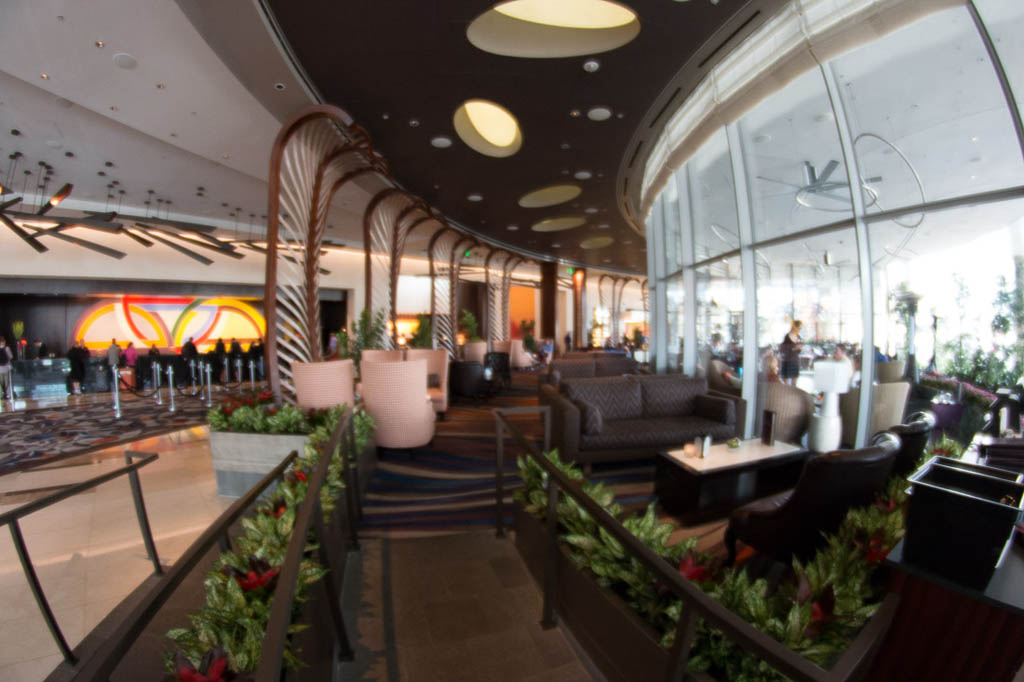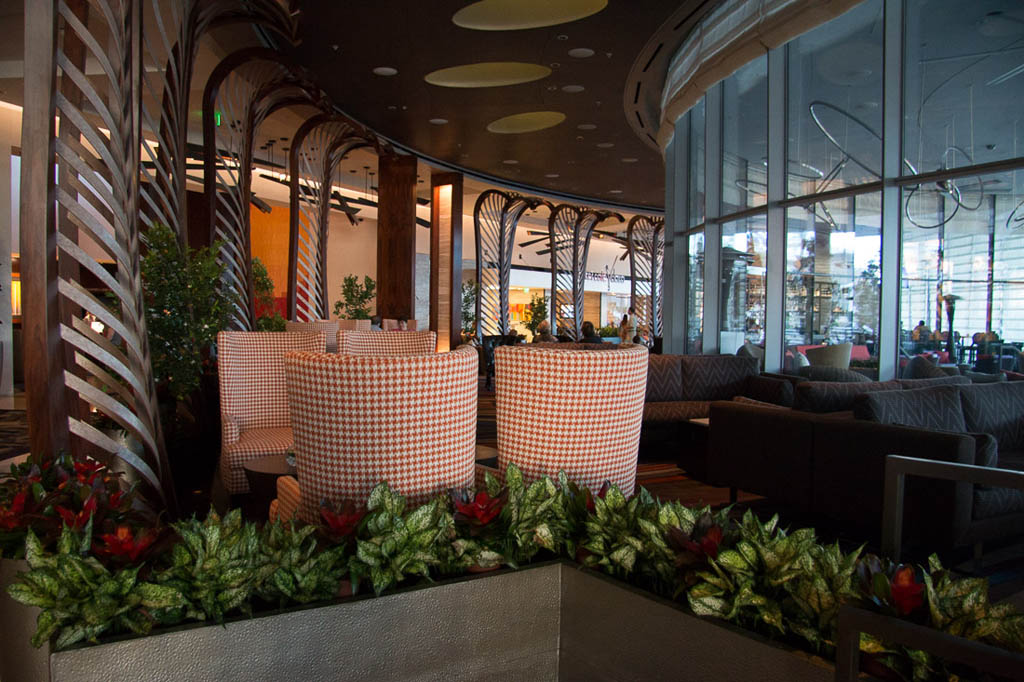 Just beyond the reception desk was another seating area.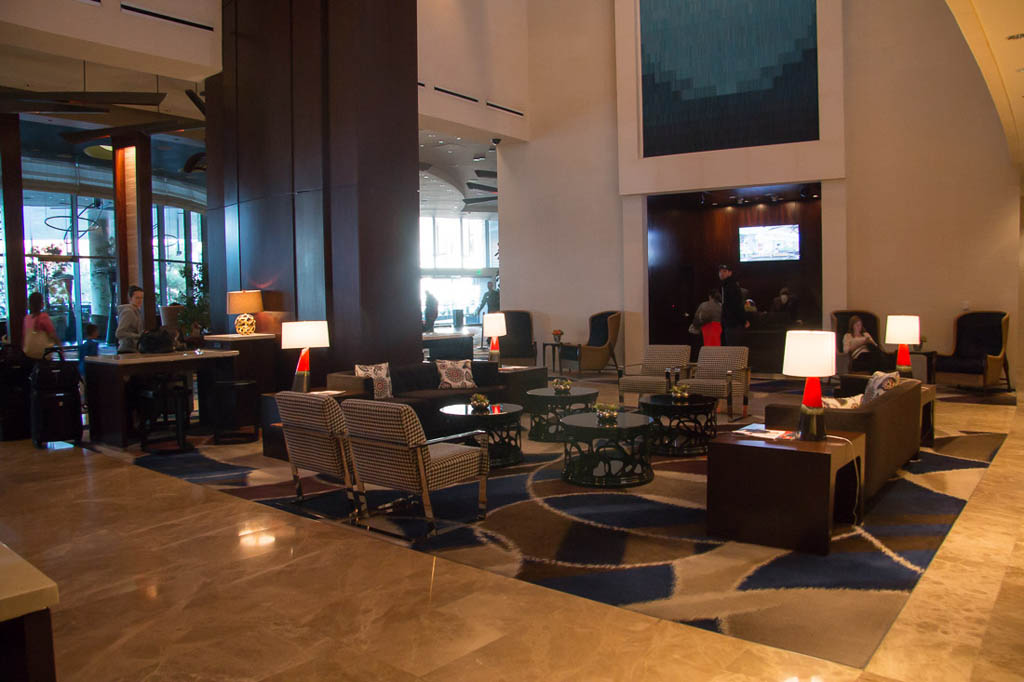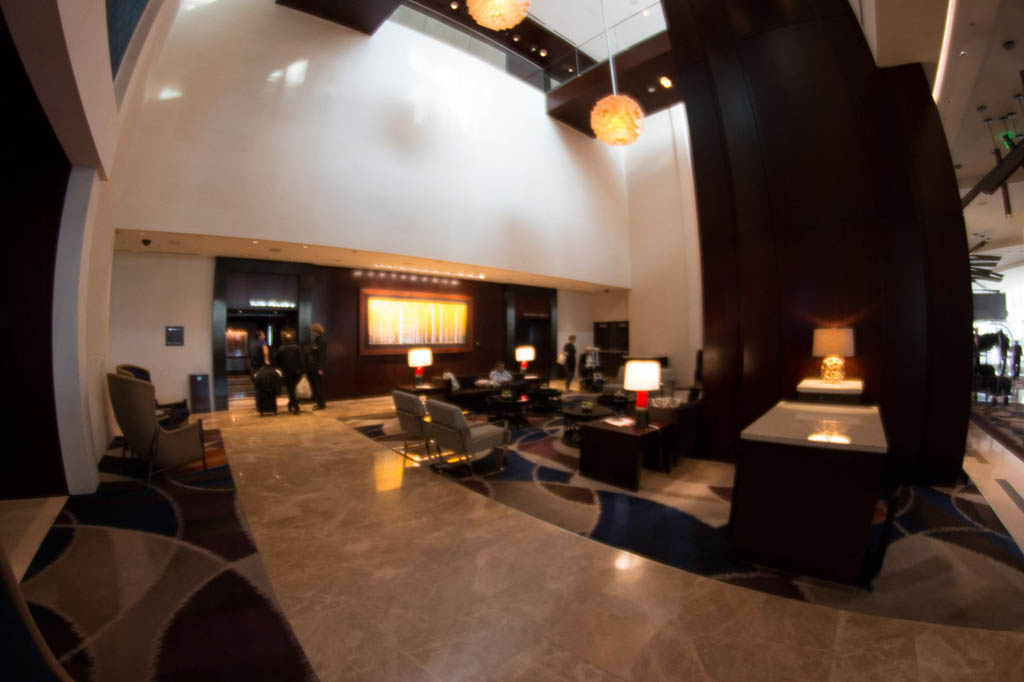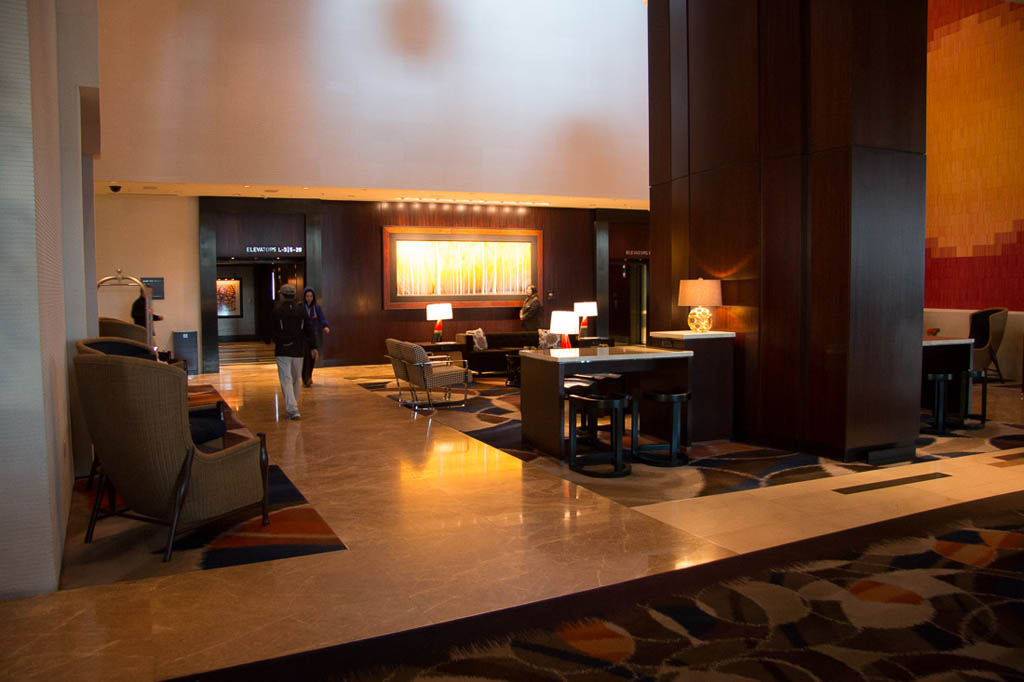 After the seating area was a bar, a small cafe, and a Starbucks.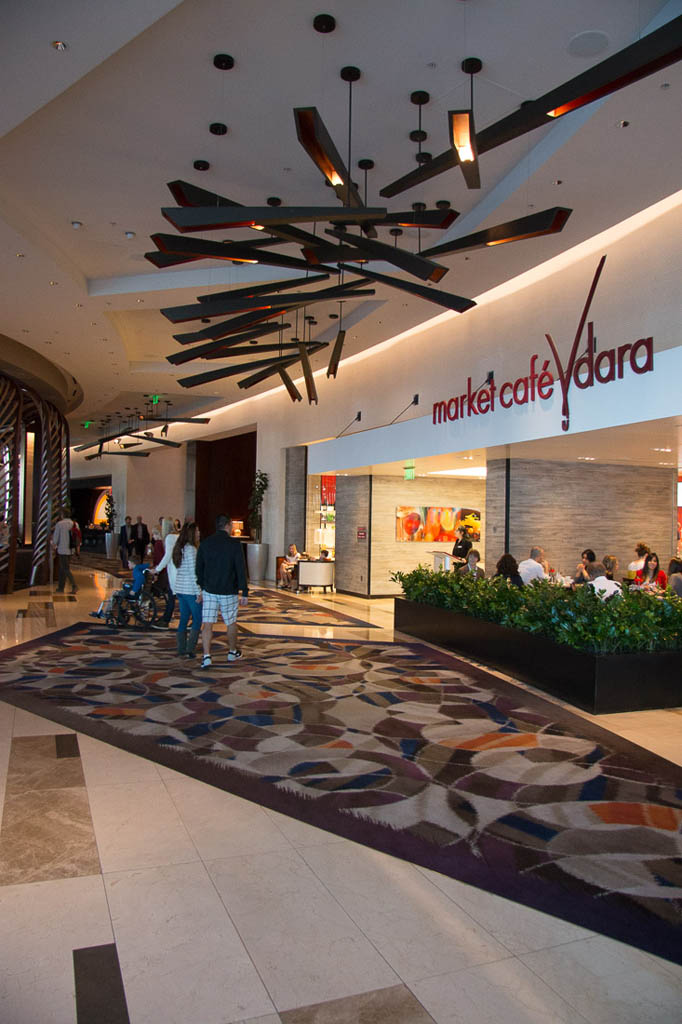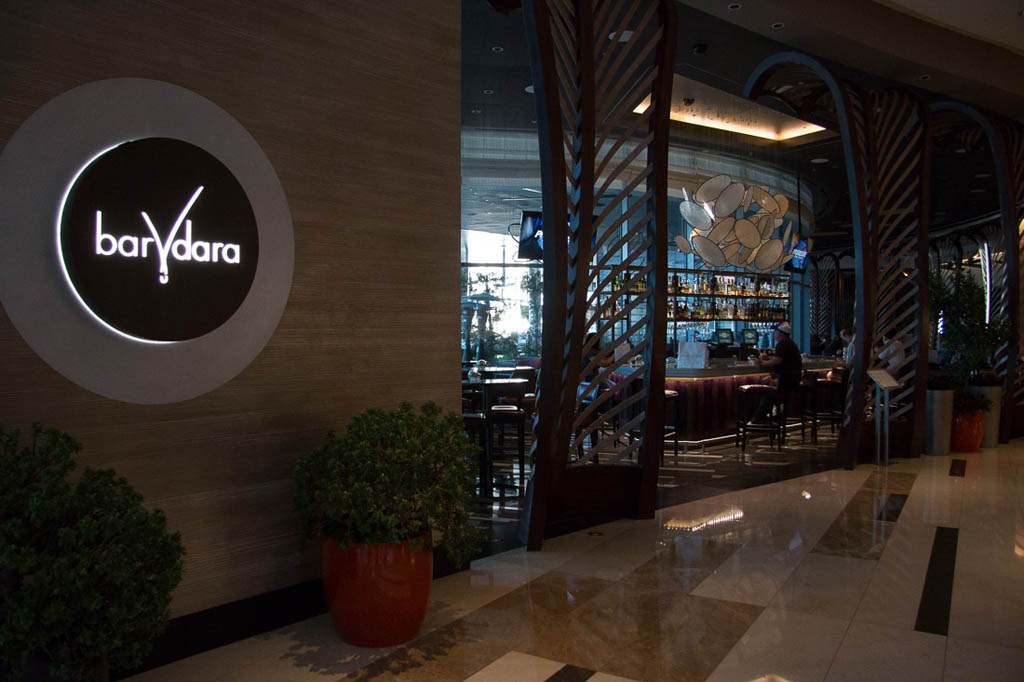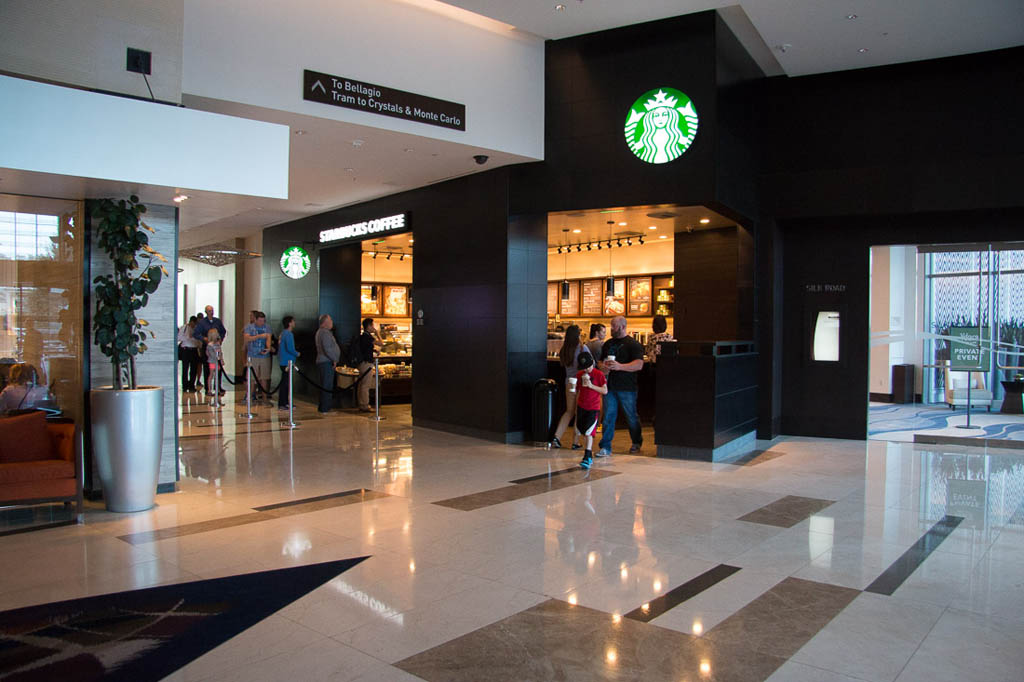 There was also a pathway that connected the Vdara to the Bellagio and trams that connected to other hotels.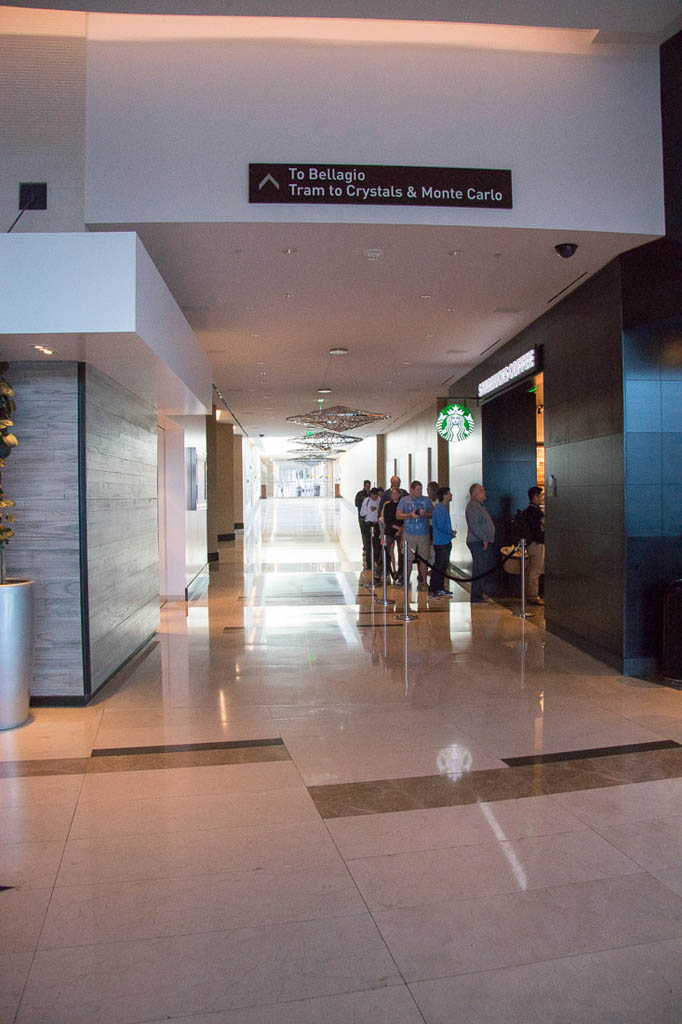 Valet and Outdoor Space at Vdara
If you're not familiar with Las Vegas, you might not know that hotels offer free valet parking (just whatever you decide to tip the valet). The valet was always quick and efficient, although unlike other Vegas hotels we've stayed at previously, you couldn't call down ahead of time to have them bring up your car. You had to actually drop off your ticket outside.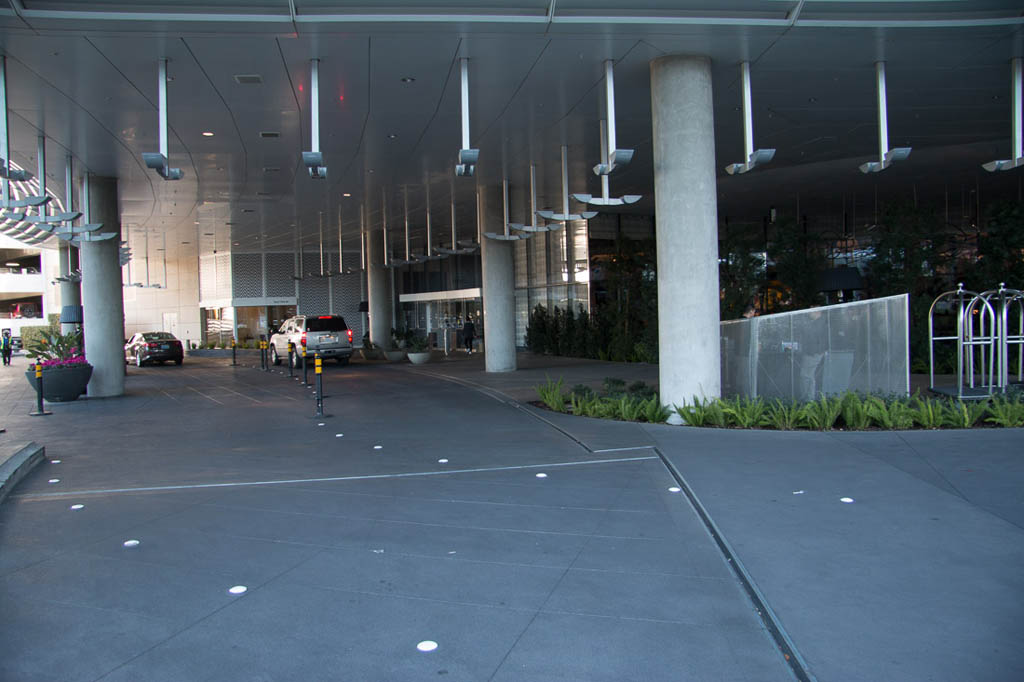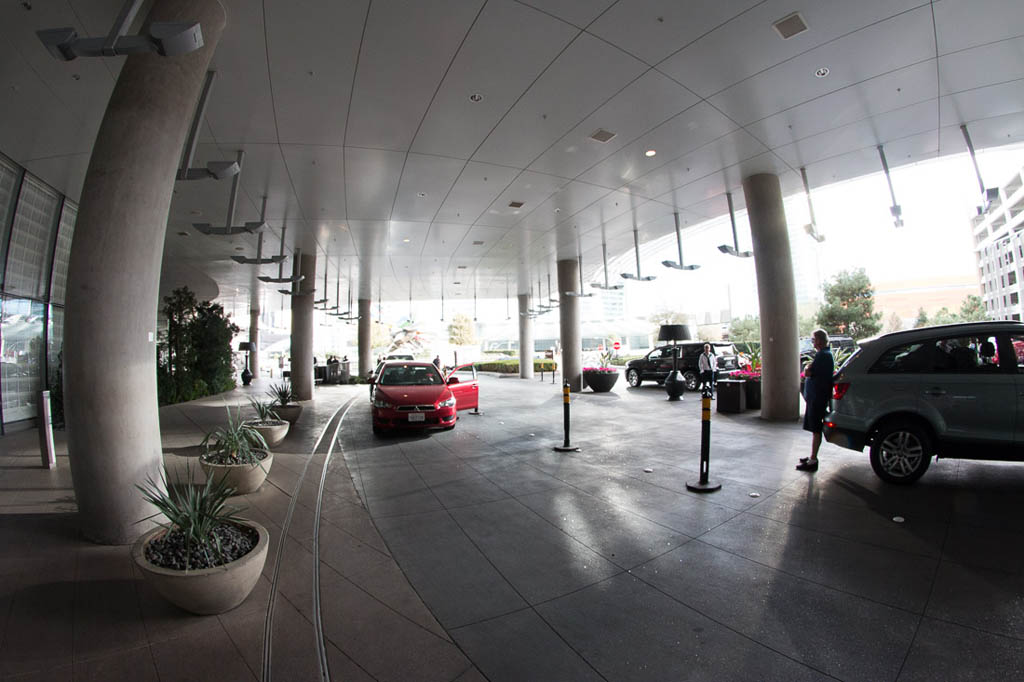 Right next to where the Valet drop off was, the Vdara had a very trendy outdoor seating space. This actually got quite crowded at night. It even had space heaters and firepits!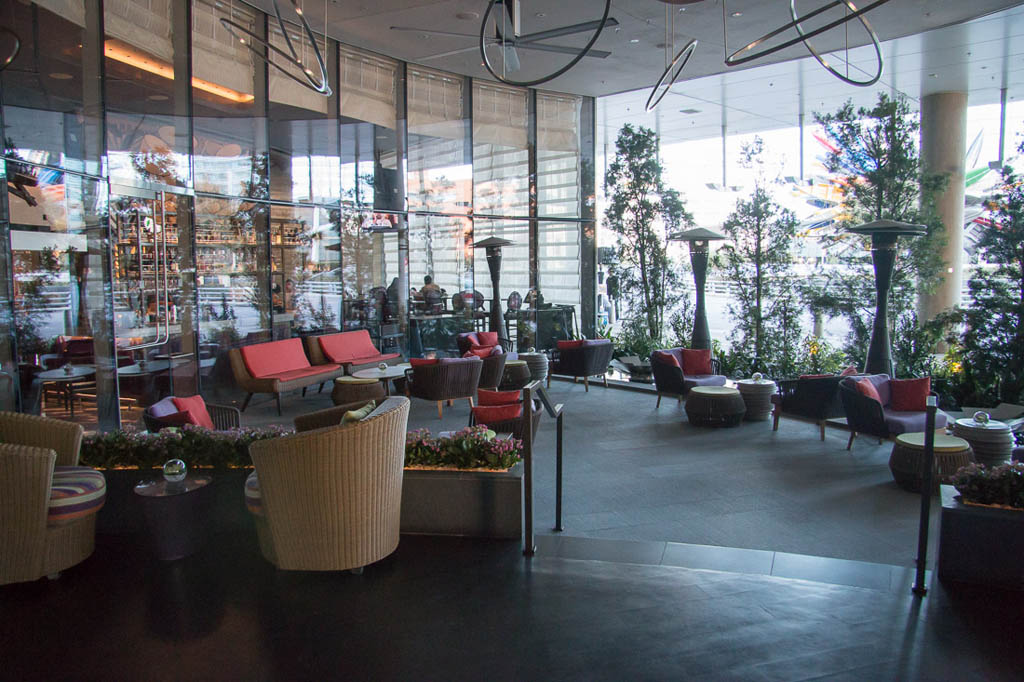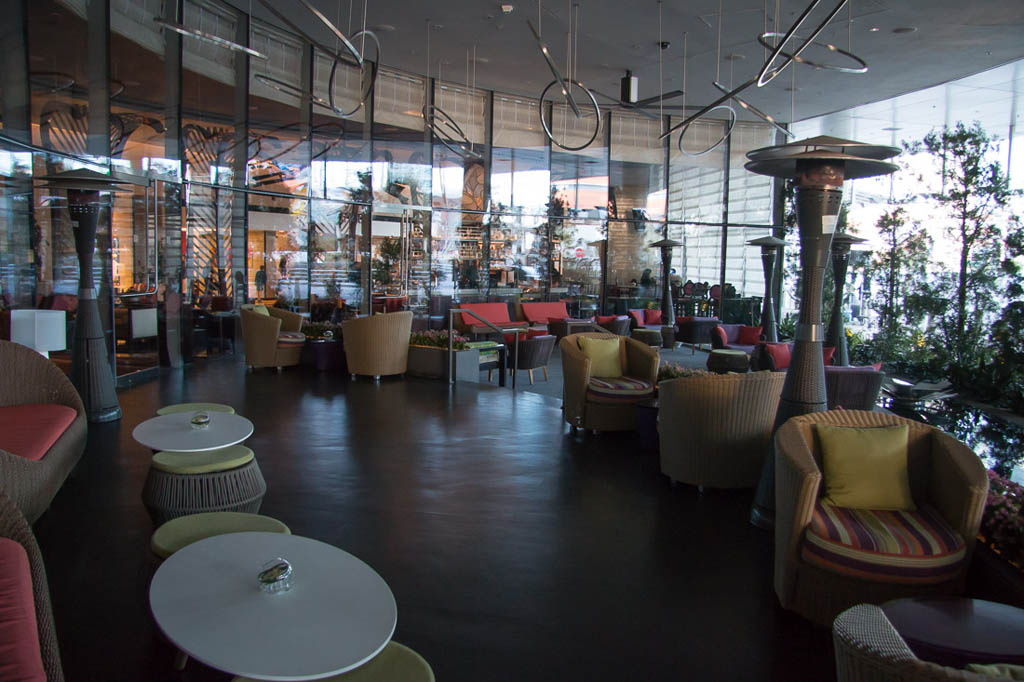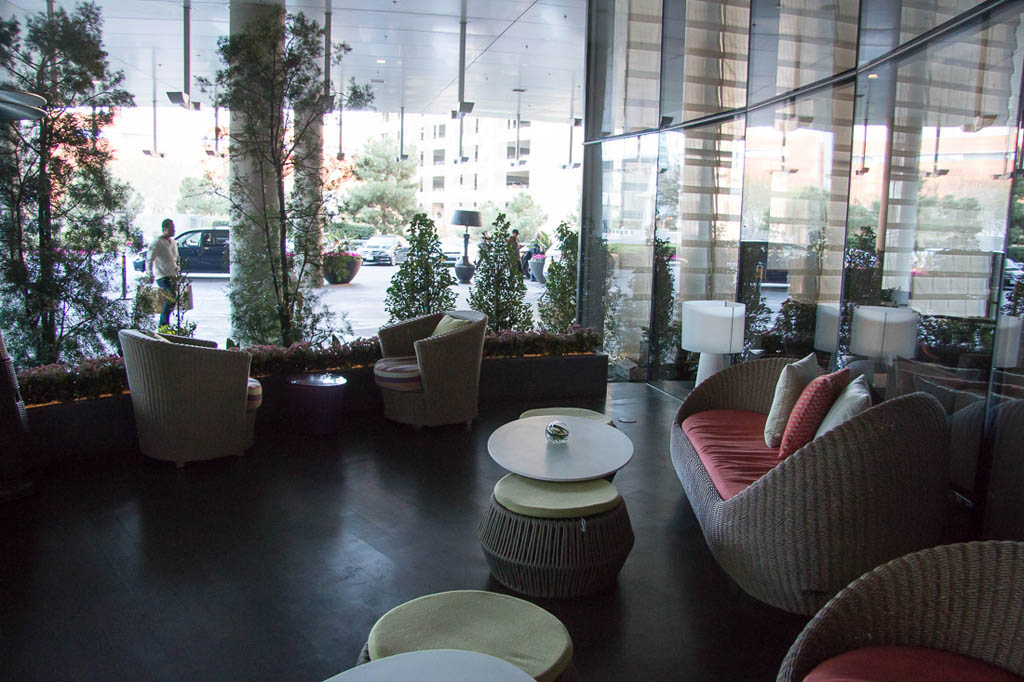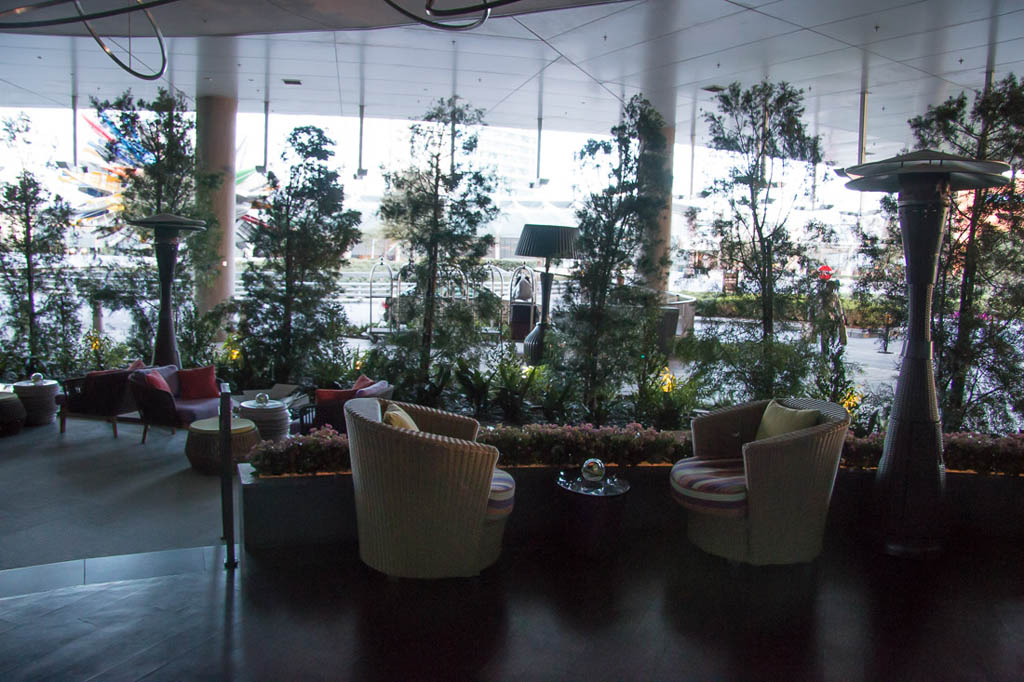 The Pool at the Vdara
I actually wasn't expecting the Vdara pool to be open. It was February, and during our last trip to Las Vegas (which took place in the month of November), all the pools were closed. But, perhaps it was because Las Vegas was having record-breaking heat, they opened them?
Not sure. We didn't go swimming, but we did walk around for a while.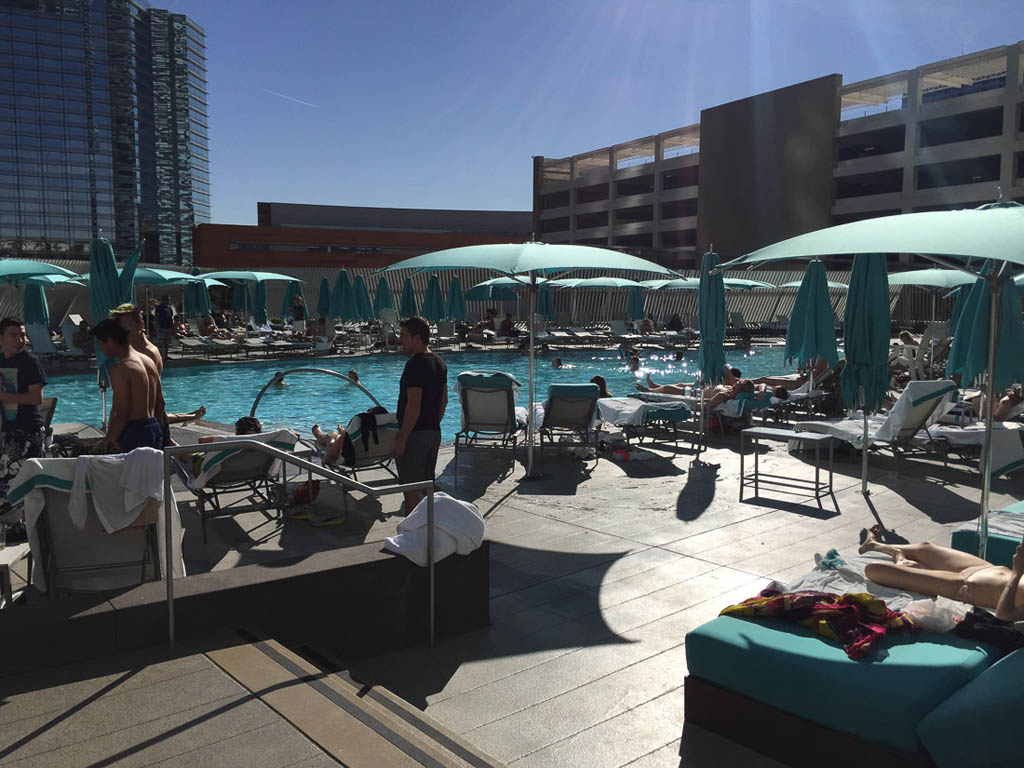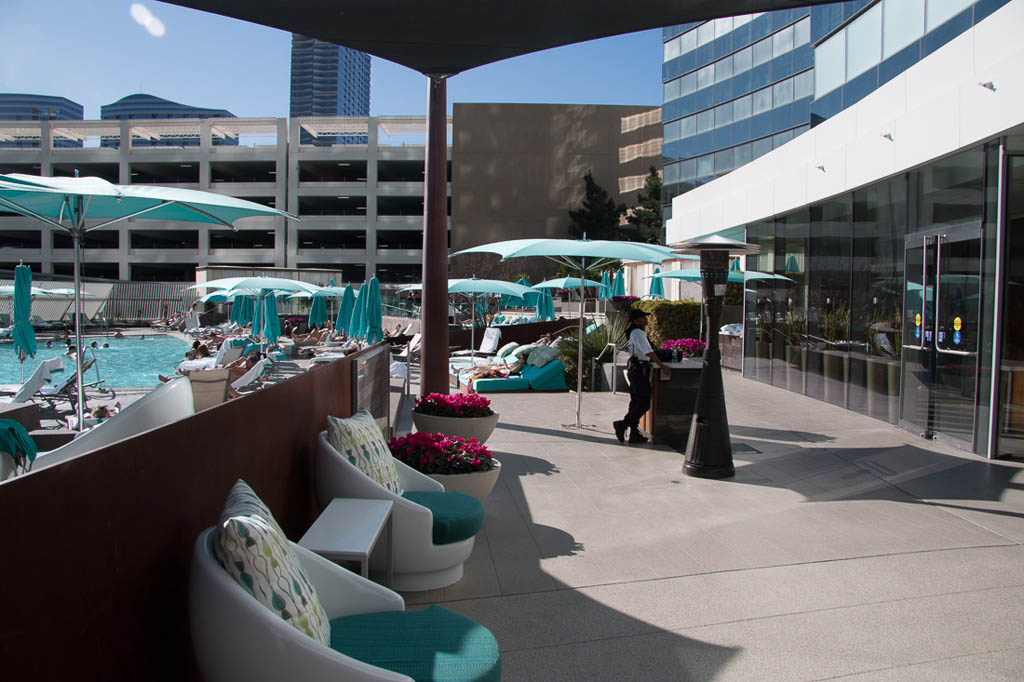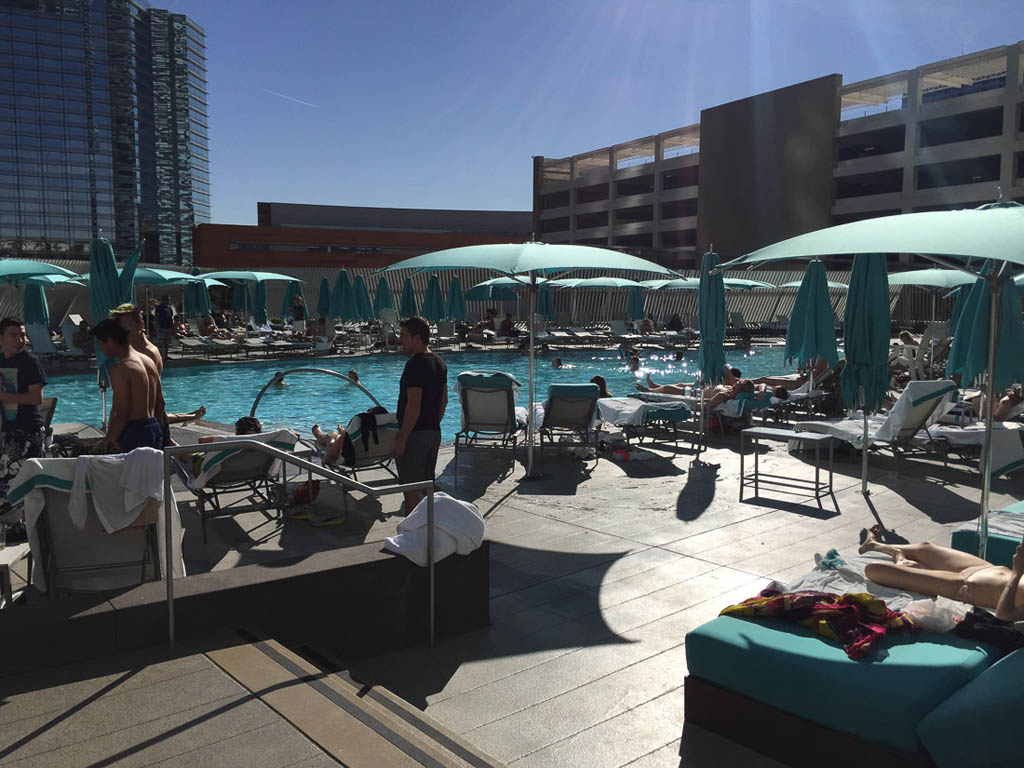 Overall, we really enjoyed our stay at the Vdara. With the one (very minor) caveat of it not being a great hotel for a first-time Vegas visitor, primarily because of the lack of "casino" experience, we'd certainly recommend it!