This post may contain affiliate links. Please see my advertiser disclosure for more details.
Okay, so the "Friday Randomness" is a day late this week. Why?  Friends, I have been so, so sick. Like sicker than I can ever remember in my adult life. And when I do get sick? It's usually just for a few days. This has been going on since last Sunday. I've felt like a bit of a whiner, but I went to the doctor three times this week, including an ENT doctor who PUT A VACUUM THINGY UP MY NOSE to clear out some of my congestion. Did you know they could do that?
So, let's run through the timeline.
Last Sunday: Fever of 100-ish, sore throat. Took Advil in evening, fever lowered, felt better.
Monday: Congestion starts. Fever reaches 102. Go to primary care doctor, because I thought I might be getting strep throat (I had strep throat about 4 years ago that started with very similar symptoms). Strep test was negative, diagnosed with a Virus that could last 7-10 days. Continue to take advil to manage fever and lessen sore throat, and doctor recommends Sudafed for congestion.
Tuesday: Misery, don't sleep well Tuesday night. I attribute that to taking Sudafed, which makes me jittery.
Wednesday: Misery. Didn't sleep well again. Wondering if I should stop taking decongestants to get some sleep. Throat is feeling slightly better, but I've never felt so congested IN MY LIFE. In previous colds and stuff, there's usually a little bit of air that can get through one nostril. Not this time. It almost feels like there is something sitting at the top of my nose blocking my airways. I actually feel like I'm suffocating when I'm eating because I can't breathe in any air through my nose. My face hurts.
Thursday: Call ENT doctor, able to get in for same day appointment. They suction my ears and nose, diagnose me with sinus infection and prescribe antibiotics since I have been feeling badly for so long already. Mention my cough is keeping me awake at night, and I'm prescribed a cough medicine called Tessalon Perles. The medicine does not help my cough at all, barely sleep a wink on Thursday night. Starting to think I'm becoming delusional due to lack of sleep.
Friday: make another appointment with my primary care doctor for my cough. She prescribes a stronger cough medicine, which helps much more than the Tessalon Perles. I finally get my first decent night sleep last night in nearly a week!
So, I really think that the illness has extended this long because I haven't been sleeping well. When I'm sick, I try to sleep as much as possible, and I think that helps shorten any illnesses. Since I wasn't sleeping well, I think that was really contributing to my illness!
Well, when you're sick, what else do you do other than watch hours and hours of TV?  I started watching Scandal, and I'm not sure how I feel about that show. It is just SO ridiculously over-the-top. But, alas, it was a good show to watch when you're drifting in and out of consciousness.
We went to Pittsburgh during the middle of the week for a family event (a few days before I got sick). The plan was to leave Pittsburgh on Friday, and then go camping for the rest of the weekend before heading back home. Well, they predicted rain for almost the entire weekend, so we decided to ditch those plans. Hopefully we can get in a camping trip before the weather gets too cold!
I thought we might have a better chance in my small Pittsburgh-area hometown in finding stores with the new iPhones in stock. I was wrong! I finally ordered one online, and it should arrive in a few weeks!
Ken was definitely a helpful husband this week while I was feeling sick. He even went to Target to pick up my prescriptions for me! Ken rarely goes to actual, physical stores, so when he does, he tends to be shocked at "all the things!" you can buy. He came home with several bags of halloween candy. Although he promptly removed the Reese's Peanut Butter Cups from this bag, saying that the peanut butter smell "contaminates" the rest of the candy. I always thought peanut butter was universally loved before I met Ken!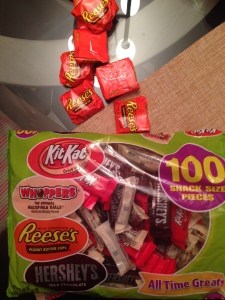 Back to the topic of TV, Ken and I finally finished Dexter after starting it nearly three years ago. I had managed to avoid spoilers about the finale, but I had read in general that people HATED the finale.  I thought it was a perfectly acceptable ending! I think we're going to start Game of Thrones next.